Vancouver is profoundly appreciated for its aesthetic pleasures, and with world-class beaches, fresh seafood, and opulent culture, it has a lot to offer.
It is one of the most lively and naturally prosperous cities in the world due to its public beaches. The untamed, beautiful, and popular beaches in Vancouver are only one of its many charms.
This constitutes an 18 km coastline with many of them to look upon, and there exist many treasures of the beaches In Vancouver itself.
Want to discover a few of the gems? Then hop into this virtual ride of sightseeing the beaches in Vancouver. 
12 Best Beaches in Vancouver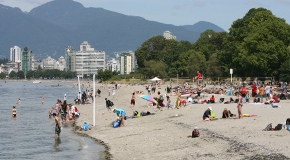 At the northern end of Yew St. on Cornwall Ave. lies Kitsilano's "Kits" Beach. One of Vancouver's busiest beaches is Kitsilano Beach, particularly in the sweltering summer months.
The Kitsilano neighbourhood's northern boundary is where the beach is located, overlooking English Bay.
The Kitsilano Pool lies on the west side of Kits Beach, and the seawall runs alongside it and is also one of the popular beaches in Vancouver.
A playground and several beach volleyball courts may be found near Kits beach's northernmost point.
Got a gang of friends? Why not hit this beach in Vancouver and play volleyball till sunset? I bet you will love the serenity and vibe in Kitsilano Beach.
2. English Bay Beach
English Bay Beach, also known as the first beach located across Beach Boulevard between Gilford and Bidwell Streets, is the busiest spot in the centre of North Vancouver.
The Stanley Park Seawall, a well-jogging and bicycling track, stretches along the shore's eastern edge.
Did you know? English Bay Beach is one of the most populated beaches in Vancouver especially in the hot summer months when it's a perfect time for picnics, swimming, and tanning.
This natural beauty is also accessible by a small ferry from Granville Island.
So, are you excited for your next summer holidays in the lap of English Bay Beach? Let's get tanned together on this exotic beach, well meet you on the other side then!
3. Jericho Beach
The main draw of this stunning park and beach on the Point Grey coast is its collection of wild rabbits, who are reportedly descended from abandoned pets from years ago.
But this 47-hectare park and beach offer much more, including picnic spots, athletic courts, duck ponds, and the Jericho Sailing Centre, which rents out a variety of small watercraft at affordable rates, including paddle boards and kayaks.
When the season starts, summer sailing instruction is in full swing. Jericho Beach provides a peaceful retreat.
You can go sailing on English Bay's beaches in Vancouver or stroll through a verdant park here. Swim to cool off or rent a sailboat to tour the bay.
4. Second Beach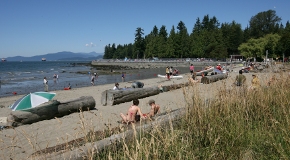 Second Beach in Stanley Park is situated next to Second Beach Pool, an outdoor heated pool with views of the ocean, at the intersection of Stanley Park Dr and North Lagoon Dr.
In the adjoining Ceperley Meadow, barbecues can be used, and a picnic tent can be hired for exclusive events.
Family-friendly gradual depths, separate lanes for lap swimmers, and a sloped entry are all features of the pool. Just keep a note- harvesting of bivalve molluscs or fishing is prohibited here on beaches in Vancouver.
5. Wreck Beach
Wreck Beach is a well-known location and one of the popular beaches in Vancouver. It attracts over 500,000 visits yearly, even if some of those visitors come back repeatedly.
The area stretches southward for about 4 miles from Acadia Beach. Wreck Beach is a popular spot for naked sunbathing among Vancouver locals. It's not a popular hobby and not everyone will enjoy it.
However, it is a nude beach, but you do not need to undress completely.
This makes it the only clothing optional on beaches in Vancouver. It's a wonderful spot for people-watching and getting in touch with nature as well.
But remember to follow the signs' don't gawk and stare. Also, refrain from taking pictures of people without their consent. It's probably preferable to leave the camera at home.
So excited to have a skin dipping experience? Then head on to Wreck Beach in Vancouver!
6. Spanish Banks Beach
Spanish Banks Beach is segregated into three separate areas: east, west, and extension of the beach.
It is situated along Northwest Marine, west of Tolmie St. Low tide flats, which are most noticeable at Spanish Bank West and are one kilometre offshore at low tide. These are what Spanish Banks are most known for.
Swimming is possible in Spanish Bank East, while Spanish Bank West is where skimboarding and kitesurfing are more in demand.
These beaches in Vancouver are well-liked for strolls, family get-togethers, picnics, and playing tennis soccer, and volleyball games because they are surrounded by green fields.
Next to a walking path that follows the water, there is a separate cycling path.
7. Third Beach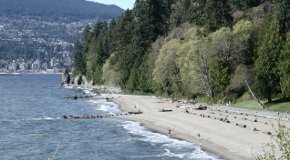 Third Beach, a naturally white sand beach surrounded by greenery that protects swimmers and sunbathers from city noise, is situated at Ferguson Point in Stanley Park.
This quiet beach is ideal for peaceful swimming, picnics, and sunset viewing.
There's a real myth about the route to Third beach being only for hikers. The 1.3-mile hiking trails through tall woods and at times cloaked in fog, lending the woodland here a ghostly atmosphere.
But the perfect reward comes when you emerge onto the coast at the creek's log-choked mouth and view the vast Pacific Ocean. Therefore, the Third beach is one of the best beaches in Vancouver.
8. Sunset Beach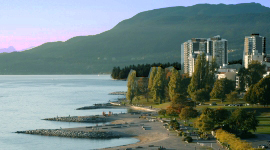 One of the beaches in Vancouver, as implied by the name, this region is renowned for its spectacular sunsets, away from the city skyline.
Near Vancouver's West End and downtown, Sunset Beach is a much less popular beach. It is located on Seaside Ave near Bute St and Thurlow St. near the entrance of False Creek.
It is close to the Vancouver pool centre and has a port entry for the Falsreek Ferry. Sunbathing and swimming are very enjoyable at Sunset beach.
There is plenty of golden sand for relaxing and logs on which to lean. As one of the "peaceful" beaches in Vancouver Sunset Beach is recognized.
No amplified music may be performed without a permit, according to signage. A sizable grassy area known as Sunset Beach park is located across the street from the beautiful beach.
Events including the Pride Festival, a free concert by the Vancouver symphony orchestra, and a 420 cannabis protest are held here every year.
9. Locarno Beach
Locarno Beach, one of the popular beaches in Vancouver, is a part of the Stanley Park seawall system and can be found on Northwest Marine near Discovery St and Tolmie St on the west side of Jericho Park.
The sandy Locarno Beach is surrounded by thick, coniferous trees. You will find six volleyball courts, a few tennis courts, picnic tables, and a concession stand in Locarno.
A swimming raft is frequently present in the water as well. It is quite a smaller beach, yet there are lifeguards as well, but they are only there from late May to labour day (early September).
If you enjoy sandy beaches, Locarno is the place for you.
Even though it is one of the "Peaceful" beaches in Vancouver, families enjoy picnics and barbecues there frequently during the summer.
10. Ambleside Beach
Ambleside Beach is West Vancouver's economic and artistic heart – a waterfront community that promotes the arts and culture in all of its forms.
This is one of the beaches in Vancouver which can pull out the artist in you. It is a lovely coastal community with artists, galleries, year-round festivals and calm waters.
With a vibrant Marine Drive main street linked to the Centennial Seawalk and a calendar of events centred on the shore.
It draws locals and visitors from all over the lower mainland, who discover unique and distinct shops and restaurants, active riverfront parks and piers, and a truly inspirational community of artisans, creators, and innovators.
In great weather conditions, public parking is not allowed after slots get filled. When the parking lots are full, they will be closed. Please have a backup plan and follow traffic control directions.
11. Trout Lake
Trout Lake beaches in Vancouver is a tiny lake in John Hendry Park in Vancouver, which also houses the Trout Lake Community Centre and a big farmers' market in the summer.
Trout Lake is a tiny urban lake located between East 14th and East 19th Avenues in John Hendry Park. Victoria Drive runs along the park's western edge, while South Grandview Highway goes through the park's northeast corner.
There are public restrooms, a snack stand, and a tiny sandy nice beach at the lake's south end. Barbecues are allowed in the area, and a bathing raft is available in the summer.
Lifeguards are on duty from June to September.
12. Dundarave Beach
The quaint and charming West Vancouver suburb of Dundarave is located on the North shore. It comprises a few streets lined with quaint stores and eateries, a pier, and the seawall that extends to Ambleside, one of Metro Vancouver's best places for strolling.
West Vancouver's Dundarave is a coastal neighbourhood featuring a shopping district, a playground, a seawall along the water, and both rocky and sandy beaches.
At the base of 25th Street, you will find Dundarave Park. Dundarave Park is one of West Vancouver's most popular parks, and with good reason: it features more than 50 meters of sandy beach and about a hectare of waterfront access.
This is also the initial point for the Centennial Seawalk. Dundarave Park is an ideal location for you and your family to spend a relaxing day in the great outdoors. beaches in Vancouver.
Key Takeaways
If you have ever fantasized about the splendour of paradise, you should consider visiting these beaches in Vancouver.
The majestic playful waves crashing on the coast, the sea generating a melodious clamour, provide an appealing contrast to the arena's intrinsic peacefulness.
FAQ
1. What is the most popular beach in Vancouver?
English Bay Becah is the most popular Vancouver Beach, a must to visit in the summertime for all its fireworks displays.
2. What are the top 4 cleanest beaches in Vancouver?
The top 4 beaches of Vancouver are as follows:
Kitsilano Beach.
Second Beach at Stanley Park.
English Bay.
Sunset Beach.
3. Why is Vancouver famous?
Vancouver is famous for its mild climate, majestic sea views, and friendly people. This place is a wild spot for tourist attraction, and also a great place to reside in.