Yaletown is one of the best places for tourists to stay and enjoy different cuisines. Located in Vancouver, many restaurants and cafes in Yaletown offer dishes in their unique style and flavor. One can visit for lunch, brunch, or dinner with family and friends. The place has restaurants that can cater to unique needs and cravings. From budget eating to high-end dining experiences, one can find everything in these Yaletown restaurants.
Among all the restaurants in Yaletown, some of which can appear top of the list will be Bluewater Cafe, MeeT Yaletown, Provence Marinaside, and many more. Here's a list of the best Yaletown restaurants which you can enjoy when you are in Vancouver.
1. Blue water Cafe
Are you a seafood lover? The Bluewater cafe is a must-visit Yaletown restaurant for you providing fresh and perfectly cooked seafood. This award-winning restaurant is designed with exposed brick and wooden beams ambiance. The place is known for its best service, extravagant bar, and heated patio. One can even dine in a private dining room but with prior reservations. Large shrimp, clams, mussels, and other ceviche are must-try.
For the drinks menu, one can choose from a selection of rare tequilas, cognac, and a huge variety of whiskeys. Starter options to try are Bay Scallop Ceviche and Albacore tuna tartare. Main course options can include Scallops, Yellowfin Tuna, and Atlantic Lobster.
For sweet indulgence, try the Yuzu Vanilla Panna Cotta, a selection of Sorbets, or some Fine Canadian Cheese, and end your meal on a good note.
Address: 1269 Hamilton St, Vancouver, BC V6B 6K3
2. MeeT Yaletown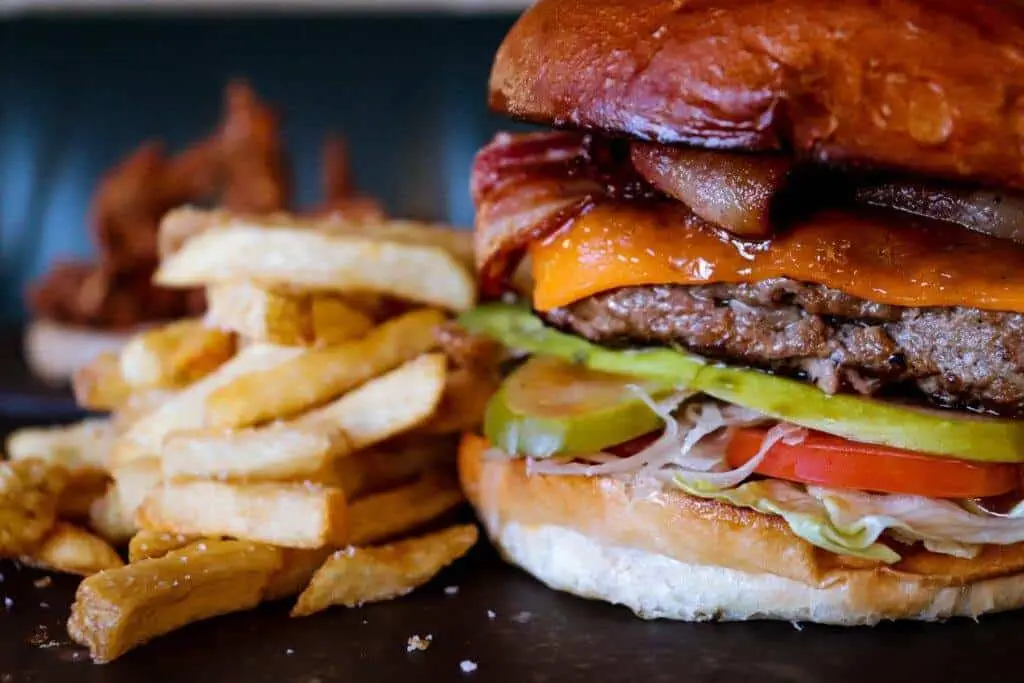 If you want to try contemporary vegan and vegetarian options, MeeT Yaletown restaurant is a must-visit. It is loved by locals and recommended to visitors who want to visit and enjoy delicious food with their family and friends Though located at Gastown too. One must visit the Yaletown location. This restaurant enters the list of best Yaletown restaurants for its comfort food.
The food is a blend of vegan and veggie options. The highlight of this place is the heated patio which can be enjoyed during the winters.
Dishes to try to include Sweet Chili Cauliflower Quinoa and Sweet Potato Salad. If opting for a side, do try the Groovy Gravy Fries.
Other dishes to try to include Oyster Mushroom Kalamari and Butter Chicken Poutine. The Angry Burg is also on the list of dishes to try. It is a perfectly crisp burger spiced up with Buffalo sauce and cooled down with ranch dressing making it a must-try.
Address: 1269 Hamilton St, Vancouver, BC V6B 6K3
3. Provence Marinaside
Next on the list of best Yaletown restaurants is Provence Marinaside. This is the place if you want to enjoy fresh West Coast seafood with a bit of French flare. Highlights of this place are its beautiful and pleasant decor, delicious gourmet food, well-presented plates that are irresistible and laid-back patio to take in views of the waterfront to relax during summers.
One can find lunch, brunch, and dinner options with a wide variety of choices, such as Oven Roasted Rack of Lamb, Duck Leg Confit, Pan Seared Albacore Tuna, and Lobster.
Address: 1269 Hamilton St, Vancouver, BC V6B 6K3
4. Robba da Matti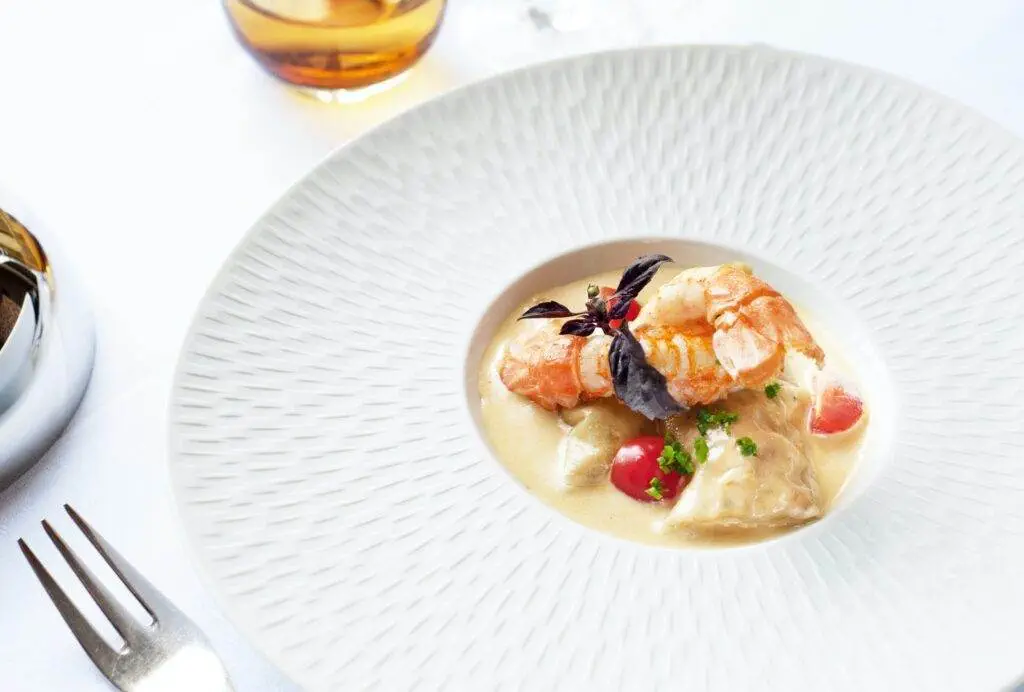 If you want to indulge in a Mediterranean dining experience, Roba da Matti will be your best Yaletown restaurant. The restaurant provides good service and a friendly ambiance.
One can opt for lunch, brunch, or dinner with family and friends. Visiting here is a must as one can enjoy regional dishes made from family recipes.
Food to enjoy include Lobster & Crab Ravioli, Spaghetti Alla Carbonara, and Seafood Risotto. Do try Prosciutto and Burrata, as it is the highlight. Another pasta recommendation would be Spaghetti Allo Scoglio made with scallops, tiger prawns, calamari mussels, and clams in a tomato base.
The Italian wine collection is great here; hence check it out too. For dessert, one can go for Tiramisu or creamy Panna Cotta.
Address: 1269 Hamilton St, Vancouver, BC V6B 6K3
5. Minami Restaurant
Sushi lovers cannot miss visiting Minami Restaurant as this is the best for authentic Japanese food and other fusion dishes among Yaletown restaurants. Perfect spot to try Aburi: flame-seared sushi for an extra twist.
Classics include Miso Soup, Steamed Edamame, and unique dishes such as Brussel Sprout Chips with lemon pepper salt and Ebi (shrimp) Fritters served with Harissa Aoili are must try. Salmon Oshi Sushi and Ebi Oshi Sushi are must-try for sushi lovers.
For dessert, try Coconut Panna Cotta and flavorful sorbets, and don't forget to try the Green Tea Opera Cake too.
Address: 1269 Hamilton St, Vancouver, BC V6B 6K3
6. Nuba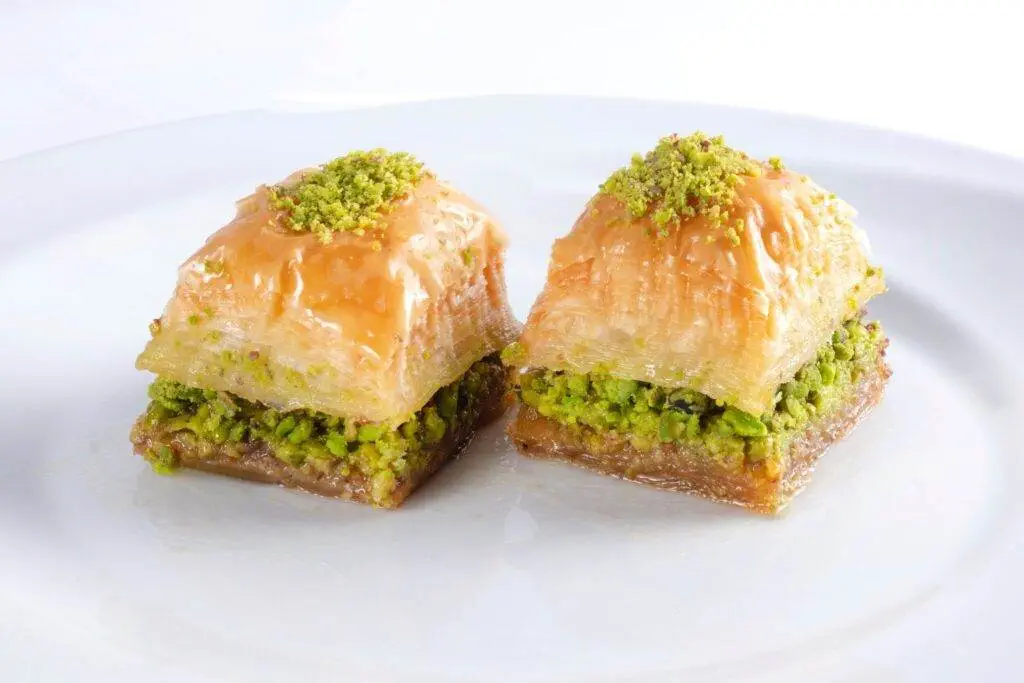 When talking about Yaletown restaurants, Nuba is sure to be mentioned. This Yaletown restaurant serves lunch and dinner options with decor filled with vibrant colors of pink, blue and green. As you enter, beautiful arches and mosaics can be seen, which can be enjoyed with the food, which is fresh and flavorful. Come here to enjoy Lebanese food with a variety of contemporary choices.
Dishes to try to include Chicken Tawook Plate, the Harissa Chicken, or a Najib's Special, and the Falafels and Pita Wraps. Don't forget to try homemade ginger beer and Lebanese wine for drink choices, and end it with a little baklava.
The highlight of this restaurant is the use of halal, non-medicated meats, and they also have a lot of Vegan and gluten-free options catering to everyone's individual needs and choices.
Address: 1269 Hamilton St, Vancouver, BC V6B 6K3
7. Brix & Mortar
One will get pleasantly surprised by the variety of options this place provides. When talking about Canadian cuisine, Brix and Mortar come to mind as the best among all Yaletown restaurants for this cuisine with a twist. Known for its feel, the place is located in a heritage building from 1917 and is a must-visit if you want to click Instagram-worthy pictures.
Food to try out are Yarrow Meadows Duck Rillette, Braised Peace River Lamb Shank, and 48-hour Braised AAA Boneless Beef Shortrib. One can also try Thunder Creek pork side ribs, or maybe a Brome Lake duck breast, and even a Wild Salmon can be a good choice.
The Duck here is delicious and is recommended. If you want lighter options, try the small plate selection. Among salad options, one can choose fried cauliflower salad.
Indulge in a variety of dessert options, such as a decadent chocolate cake with peanut butter frosting or a delightful mason jar of passionfruit yogurt topped with gin macerated raspberries. The wine options, as well as cocktail varieties with unique combinations, are great too. One can visit this place with friends for a small party or get together.
Address: 1269 Hamilton St, Vancouver, BC V6B 6K3
8. Bistro Sakana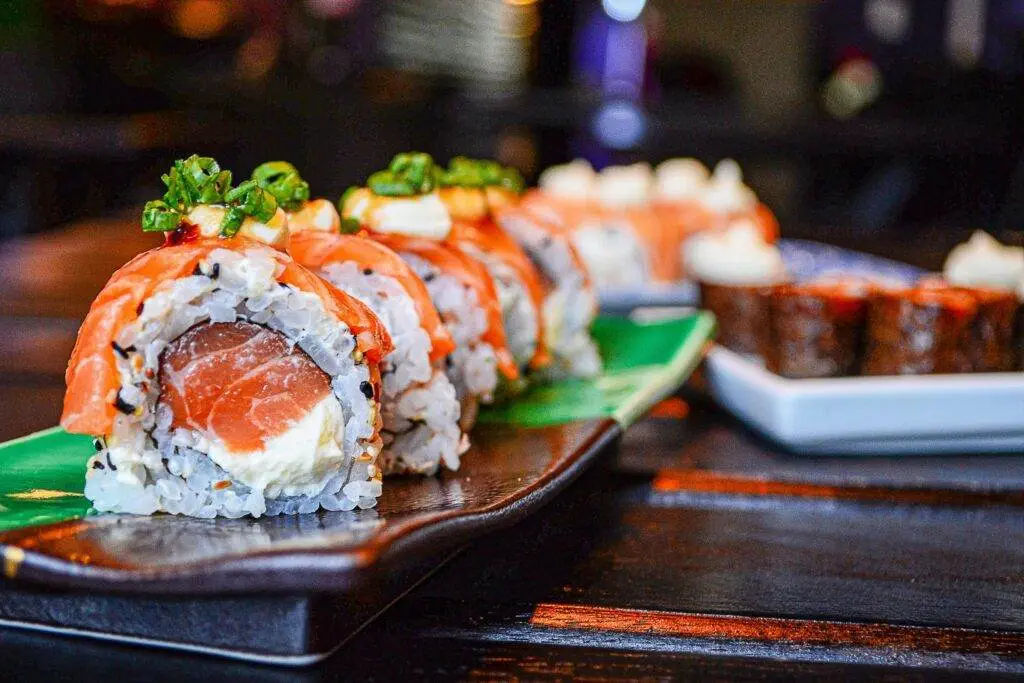 Next on the list of Yaletown restaurants will be Bistro Sakana. Know to provide authentic Japanese cuisine, the place is designed with brick, beams, and warm lighting, giving it an intimate vibe. Another highlight of this place is the beautiful garden patio. How can one forget the Sushis here? They are amazing as any good Japanese restaurant would provide.
Main course options included Spicy Scallop Kebabs, Albacore Tuna Tataki, and sushi rolls with brown rice. For drinks, wine and beer options are great too. One can even enjoy Japanese options like Asahi and Sapporo.
One can dine and taste three courses and a chef's special dessert. One can try dishes on the menu, including Hamachi Aburi Salad and a Signature Nigiri Platter, including one piece of each with Black Cod Aburi, Angus Beef Aburi, Super White Tuna, and Engawa, plus two pieces of Sockeye Jalapeno Aburi Hakozushi. Also, try Kurobuta Chop Frites too.
Address: 1123 Mainland Street
9. The Flying Pig
Next on the list of Yaletown restaurants is The Flying Pig. The Yaletown location of this restaurant provides you with dishes made with fresh and local ingredients.
This Candian restaurant provides a three-course menu with options like Cauliflower Velouté, Grilled Fanny Bay Oysters, California Cut Striploin, Pan-Seared Local Ling Cod, Wild Mushroom Gnocchi, and a dessert of Dark Chocolate and Hazelnut Mousse. Overall a great place to visit with good food and a nice experience.
Address: 1168 Hamilton Street
10. OEB Breakfast Co.
Established in 2019, the place became an instant hit among the people of Yaletown. It gets filled up fast during weekends; hence prior booking is necessary. This is one of the fantastic restaurants in Yaletown. The large outdoor patio and quality food are the main highlights of enjoying the best brunch in Vancouver.
Popular dishes on the menu include Pierogies & Duck, Hog & Scallop Poutines, The Canadian Lobster, and Shrimp Crepe.
Meal options also feature Canadian Eh! Benny comprises Canadian back bacon, dark maple syrup, or brown butter hollandaise, and the French Toast Trifle has Meyer lemon curd, market berries, Sicilian pistachio, and torched French meringue.
One must also try OEB Breakfast poutines like the Soul in a Bowl featuring duck-fat fried herb potatoes, slow-cooked bacon lardons, and Saint Cyrille curds.
Address: 1137 Marinaside Crescent Vancouver, BC V6Z 2Y3
11. Cafe Medina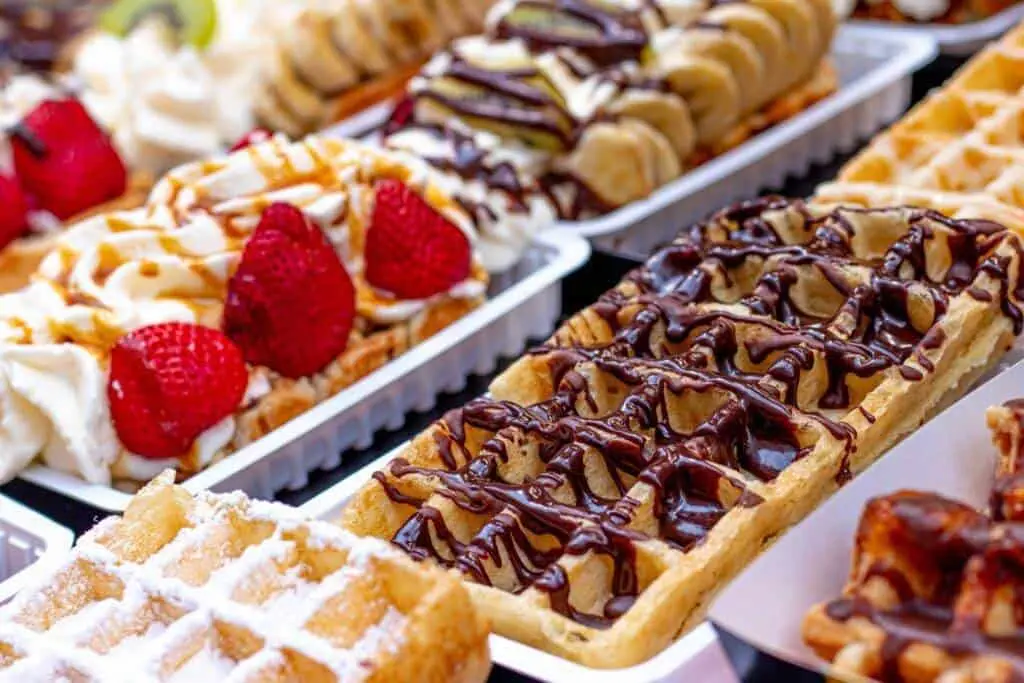 When in Yaletown, or you want to go out with friends for brunch, Cafe Medina is the first place that comes to mind. The bistro-styled restaurant is known for its Mediterranean-inspired cuisine and is popular among brunch lovers making it one of the fun places to visit in Vancouver. One can get a perfect combination of good food and ambiance when visiting this cafe.
They serve breakfast, lunch, and daily brunch alternatives throughout the week. Harissa Spiced Beef wrapped in a Grilled Pita, Harissa Burger having eggs, and Merguez Sausage with pickles are the must-try things here.
The Belgian waffles shouldn't be missed when in Cafe medina. Another must-try is Les Boulette having 2 poached eggs with spicy Moroccan lamb meatballs, and Wolves Breakfast, having a poached egg, flatiron steak, Medina bacon, and more.
Don't forget to try their signature Liège Style Waffle which has a variety of toppings to choose from, such as dark chocolate, milk chocolate lavender, white chocolate pistachio rosewater, salted caramel, and more.
If you want to go for a cocktail, try Medina 75 but if you love lattes, go for the creamy Lavender Latte. Best for weekend brunch, but reservations in advance need to be made as the place gets filled up fast.
Address: 780 Richards Street Vancouver, BC V6B 3A4
12. The Parlour
Next on the list of good Yaletown restaurants in the city of Vancouver would be The Parlour.
The place provides a good combo of quality food and great service. The menu of this place has its famous pizza, Happy Hour Share Plates, Poke Bowls, Oysters, Nibbles, and many more. Overall this place provides food of good taste and overall freshness.
Address: 1269 Hamilton St, Vancouver, BC V6B 6K3
13. Elisa Steakhouse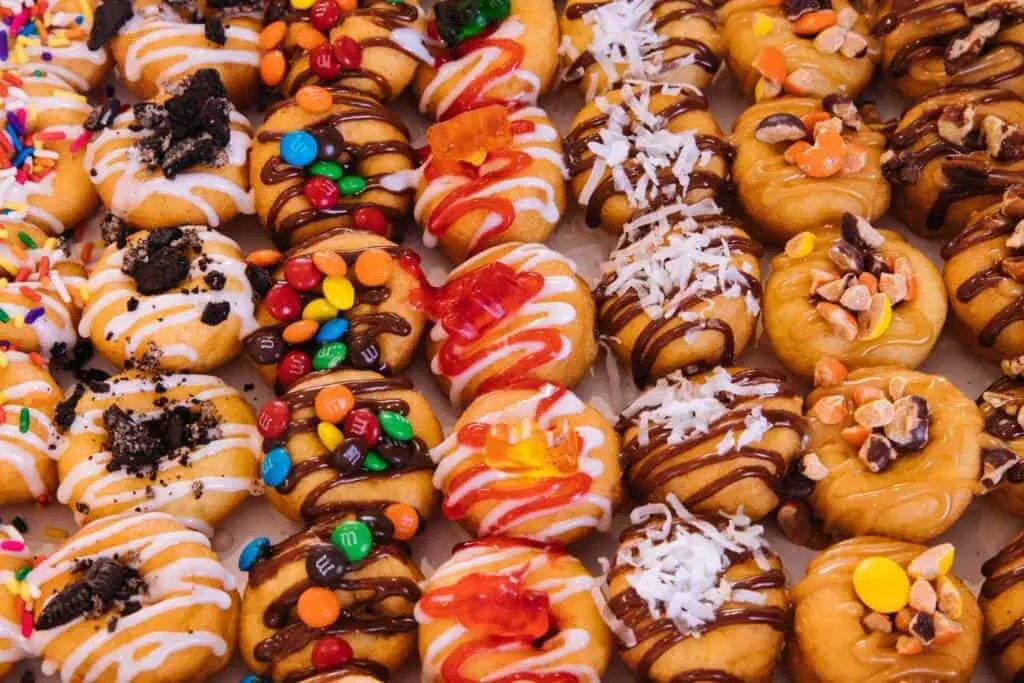 Elisa Steakhouse is one of Vancouver's most popular steakhouses, making it to the list of best Yaletown restaurants. One can enjoy their fresh and fantastic menu with friends and family. One can start with The Tartare Tasting Trio, and for salad, one can try Tender Leaf Fresh Herb Salad. You can sample their Angus Reserve or Bluedot Ribeye with a good win for an entree.
End your meal with one of their house gelatos or sorbets. One can also enjoy a slice of Warm Valrhona Chocolate Cake or their delectable Cinnamon Sugar Donuts with chocolate whiskey toffee sauce. Among Vancouver's steakhouses, this falls among the good steakhouses in Yaletown.
Address: 1269 Hamilton St, Vancouver, BC V6B 6K3
14. Manoush'eh
Manoush'eh is next on the list of Yaletown restaurants. The place is known to serve the best Syrian manousheh in Yaletown. Food to try here is cheese sham, zataar flatbread, and baba ghanoug. One can also eat their Syrian pizzas too.
Another meal option could be Zataar, a jebneh, and a Falafel style flatbread. One must not forget to try traditional Lebanese flatbreads, making them savory and sweet.
Locals enjoy the effort of the whole team, especially the server, which provides good service and a quality menu to the customers.
Address : 620 Davie Street Vancouver, BC V6B 2G5
15. La Terrazza
Known for authentic Italian fine dining, La Terrezza is next on the list of Yaletown restaurants. Having an elegant dining room and a beautiful ambiance, the place provides Tagliettelli Wagyu – a braised short rib ragu with porcini mushrooms and full of flavor, Strozzapreti Bolognese, which is also a must try. The Strozzapreti, a handmade, twisted noodle,e goes perfectly with the saucy bolognese topped with cheese.
Try their handmade Italian donuts for dessert, and you won't regret it.
Address: 1088 Cambie Street
16. Small Victory Bakery
Coffee and baked goods are best to try when in Small Victory Bakery.
They also provide brunch and lunch with items. One can try a simple avo on toast or scones with jam and cream to chimichurri chicken sandwiches and quinoa salads being the best on the menu.
Address: 1088 Homer Street
17. TWB – The Wine Bar
Next on the list of Yaletown restaurants is The Wine Bar. The place provides its customers with food with good taste and a great ambiance.
Dishes to try are Merguez, Grilled Beets with Brie, Truffle and Goat Cheese dip with house-made root chips, and Saffron Risotto Balls.
Address: 1167 Marinaside Crescent
18. Do Chay
If you are up for Vietnamese food, then Do Chay is the best Yaletown restaurant. This is one of the Yaletown restaurants with a vegan menu which is great for those who would love to have vegan food. Do Chay is best for vegetarians or those just trying out vegetarianism?
Dishes to try are coconut rice cakes and their satay noodles.
Address:
-1269 Hamilton, Vancouver, BC V5B 6K3
-1392 Kingsway, Vancouver, BC V5V 3E4
19. Rodney's Oyster House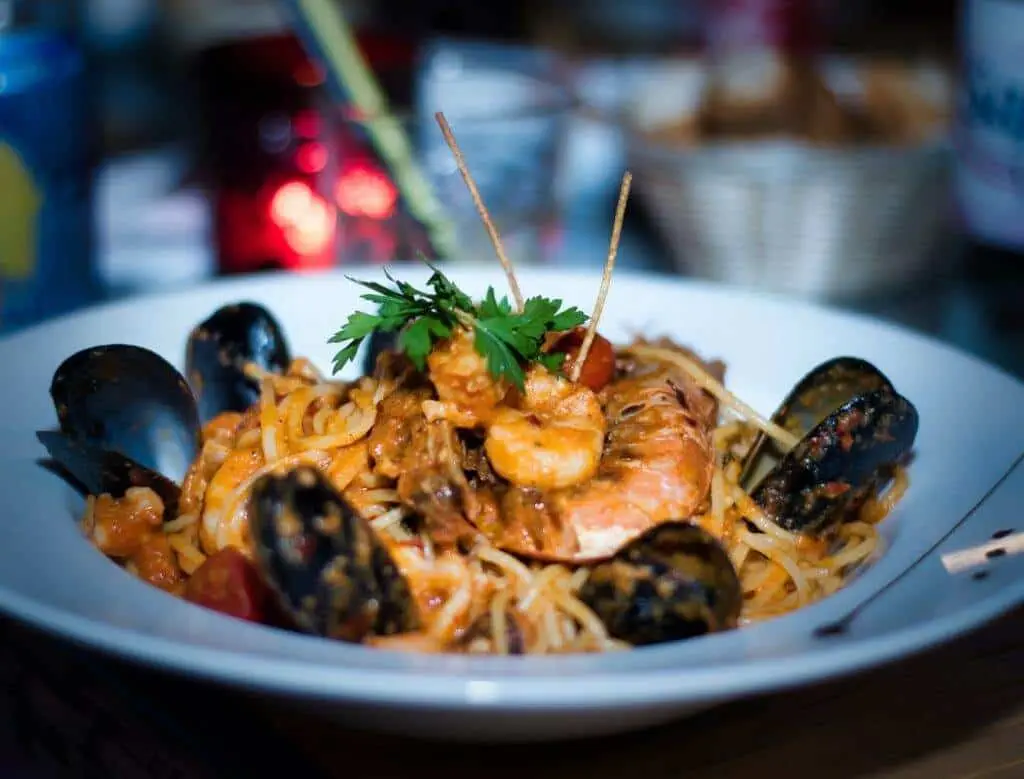 Located in Yaletown, Rodney's Oyster House also falls on the list of Best Yaletown restaurants. Dishes to try here are Halibut, Lobster, Crab, Salmon, and not to forget Oyster. One can go for a shrimp cocktail, halibut bites, spicy popcorn shrimp, clams, and lobster Frites.
One can also try seafood pasta made of shrimp, clams, mussels, scallops,s and the perfect amount of linguine in a tasty tomato sauce. The restaurant provides food of good taste, and especially seafood lovers will love this place.
Address: 1228 Hamilton Street, Vancouver, BC V6B 6L2
Conclusion
Overall these were the Yaletown restaurants that one should visit when in this area. One can find various food options in budget-friendly places where you can experience a nice dinner with a perfect ambiance.
When in Yaletown, one can find abundant cafes and restaurants to choose from to enjoy lunch, brunch, or dinner with family and friends. One can enjoy different cuisines, such as Vietnamese, Chinese, Japanese, Italian, and many more. Some restaurants also provide vegan menus making it easy for those who are vegan eaters. Do try visiting these restaurants on your next visit to Yaletown and enjoy.
Visiting Vancouver? Check out 19 Amazing Things To Do In Vancouver