If there is anything which does not disappoint, it is exploring the amazing range of restaurants in Yorkdale.
Yorkdale, or Yorkdale Shopping Centre, is a prime retail shopping mall in North York, in Toronto, Ontario, Canada.
Yorkdale is Canada's third-largest shopping center in terms of floor space. On average, around 18 million visitors visit Yorkdale restaurants, shopping areas, and other stores annually. 

The Yorkdale shopping center is located on Highway 401 at Allen Road. The design of this mall was done by John Graham Jr., excluding the Simpson store, which John Andrews designed. It is also the first major suburban shopping mall in Toronto, Ontario.
Top Yorkdale Restaurants
Restaurants run a fine business that combines taste and quality and are open from Monday to Sunday.
Some Yorkdale restaurants serve fantastic contemporary American, French, Chinese, Italian, and Canadian cuisines, a variety of seafood, and some popular Asian fast food.
Check the list below to find the best one suited for you. 
This restaurant is located in North York, Toronto. A beautiful interior, cozy atmosphere, great menu, and table filter made this place good. You can make reservations for your patio for date night.
This RH restaurant serves an ingredient-driven menu that includes Bellini, Kale Caesar Salad, Truffled Fries, Roast Chicken, Truffled Scrambled Eggs, and RH Burgers.
You can also try ice creams, chocolate cookies, and in drinks, matcha lattes, juices, or flavorful wine.
The Google rating for this place is 4.2.
This fine-dining restaurant is located in North York, Toronto. The team of award-winning chefs serves one of the best Canadian cuisines.
One can try lobster ravioli, crabs, grilled prawns, and spring rolls. Not to mention the bar's draught beef, Martinis, and house wine, you will also love chocolate souffle, lava cakes, and apple pie.

The staff here are very friendly,  and the price is also reasonable. One can make the reservations by email or contacting Joey Yorkdale restaurant directly. 
They received a Google grade of 4.2.
This Canadian and Mediterranean cafe is a pleasure for most visitors. If you love perfectly cooked seafood (crabs, tuna, and mollusks) and desserts like scones, tiramisu, and avocado toast, this is the right place for you.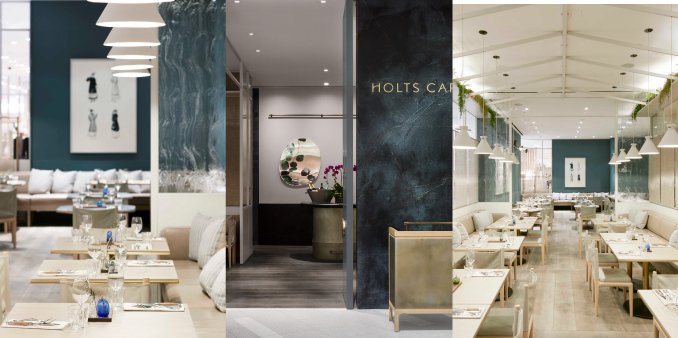 The beautiful modern interior, comfort food, and warm welcome will make you feel comfortable. The other services they provide are Wi-Fi, outdoor dining, takeout, delivery, and parking.
In Google, the rating of Holts Cafe Yorkdale is 4.1.
This fine-dine restaurant and bar are located in Yorkdale-Dufferin, Toronto. This steakhouse has a light and dull decor with a calm ambiance, this place is ideal for parties and other events.
Here you can enjoy tasty chicken sandwiches, quinoa salads, steak burgers, pasta, sirloin, and seafood and desserts like ice creams, brownies, cheesecakes, and more. Wine and lemonade also taste good.
According to the guest reviews on Google, the staff is well-behaved and gives the best service.
5. Bazille-Nordstorm Yorkdale
This bar restaurant's appetizing brick-oven pizzas, shrimp salads, prawns, sushi, and hand-made cocktails are the best.
You can also try their mouth-watering desserts like ice cream, bread pudding, chocolate cake, and more.
Fine dining reservations can be made in advance. Visitors admire the modern decor and have been given 4.3 ratings on Google. They also give the facilities of Wi-Fi, T.V, credit card accepted, takeout and delivery.
This restaurant gives the best services and tasty food to its guests. The staff here are friendly and also provide menu suggestions to the visitors. 
It attracts many visitors for its fast food menu, biscuits, cookies, and waffles, with tea, milkshakes, or lemonade.
This fast food corner provides other facilities, too, such as parking, Wi-Fi, credit card acceptance, wheelchair accessibility, takeout, and delivery.
This cafe has been rated 4.3.
This cafe was opened in December 2011 at Yorkdale Dufferin in Toronto. This restaurant is suitable for lunch and dinner with friends or colleagues.
The rooftop patio is one of the most appealing features of this skyline and the best for outdoor dining. The staff assists in serving guests very carefully, and delivery or takeout is also available.
The rating of this restaurant on Google is 4.2.
This cafe has cannoli, tiramisu, and a variety of pancakes, biscuits and cookies, along with a great latte, cappuccino, or espresso. 
The other related services are Wi-Fi, takeaway, TV, credit card acceptance, and wheelchair accessibility.
Google users have given 4.2 stars to this cafe.
An excellent family-owned restaurant specializing in Japanese cuisine serves the best food in this place. Their sushi, scallops, Asian cuisines and desserts are some of the best.
You can also have some delicious desserts like cheesecakes and ice creams. 
Try some Japanese cuisine as your brunch at this confectionary restaurant. In this cafe, they offer cheesecakes, fruitcakes, and madeleines.
According to the guest reviews, the prices are adequate, and the customer rating for this restaurant on Google is 4.3.
You will get one of the finest steaks, burgers, pasta, and handcrafted pizza here. Terroni and Cumbrae are also specialties of this culinary place.
The rating of Stock Bar on Google is 4.0.
Conclusion
The Yorkdale Shopping Centre is a fantastic place to do shopping as well as taste the delicious cuisines of the city. You will be satisfied by the variety of food and good service at this place.

Restaurant reservations are available for your comfort. Visit and enjoy the super-flavoursome dishes at your brunch, lunch, or dinner for an amazing experience!