The Temples in Toronto are visited by people of various religions and ethnicities that coexist in Canada, which is highly secular. Canada is home to some beautifully constructed temples that people of all religious backgrounds visit.
This country has a sizable Hindu and Sikh population, most of whom immigrated from India and other former British colonies.
Aside from Hindu temples, there are also Buddhist temples and Gurudwaras. They have breathtakingly beautiful structures that provide visitors with peace and calm.
Temples In Toronto
Canada is one of the world's most secular countries. Indian immigrants began arriving in this beautiful country nearly 110 years ago. Since then, the Hindu population has increased dramatically.
The Hindu Canadian network is the most visible organization tasked with bringing people together and celebrating festivals in a growing multi-cultural population.
Although they were kept at bay in the early stages of immigration, Hindus have influenced the Canadian way of life so much that they now constitute one of the largest communities.
There are over 1000 temple societies in Canada that are responsible for the construction and maintenance of Hindu temples. One of the first temples was built in 1971, in rural Nova Scotia.
This article looks at some of Canada's most popular Indian temples. If you want to visit one during your trip to Canada, here are a few options.
1. BAPS Shri Swami Narayan Mandir
This magnificent temple is located on Clareville Dr in Toronto's far northwestern industrial district. This massive hand-sculpted mandir is made of white marble. The atmosphere is ethereal, serene, and tranquil.
Wonderful build quality, Hindu deity sculptures, and other Vedic traditions can be found in the temple. While it is located in Canada, it exudes an ethereal atmosphere that transports visitors to India. Furthermore, prasad is served at regular intervals throughout the day.
The Mandir is an intricately designed and handcrafted work of ancient Indian arts, traditions, and philosophy. The Mandir was built in a record-breaking 18 months. It represents the unwavering dedication and devotion of over 400 volunteers.
2. Bhadra Kali Shakti Mandir
Bhadra Kali Shakti Mandir is not only religiously significant, but it also has significant historical significance in Canada. It is one of the churches in Toronto.
It can not only provide a place to worship God, but it can also help to build a friendly community of like-minded people, host recreational events, participate in various cultural activities, and provide vital social services.
3. Buddhist Temple, International Buddhist Society
This well-known temple is located in Vancouver, Canada. This is likely the largest temple in North America, not just Canada. The temple has peaceful surroundings and plenty of space for people who want to meditate in a spiritual and devotional setting. Beautiful gardens and a small pond surround the temple.
It is similar to Chinese Buddhist temples, with a full display of Chinese Buddhist traditions. There are numerous photogenic locations at the temple. On the site, there is also a Chinese restaurant.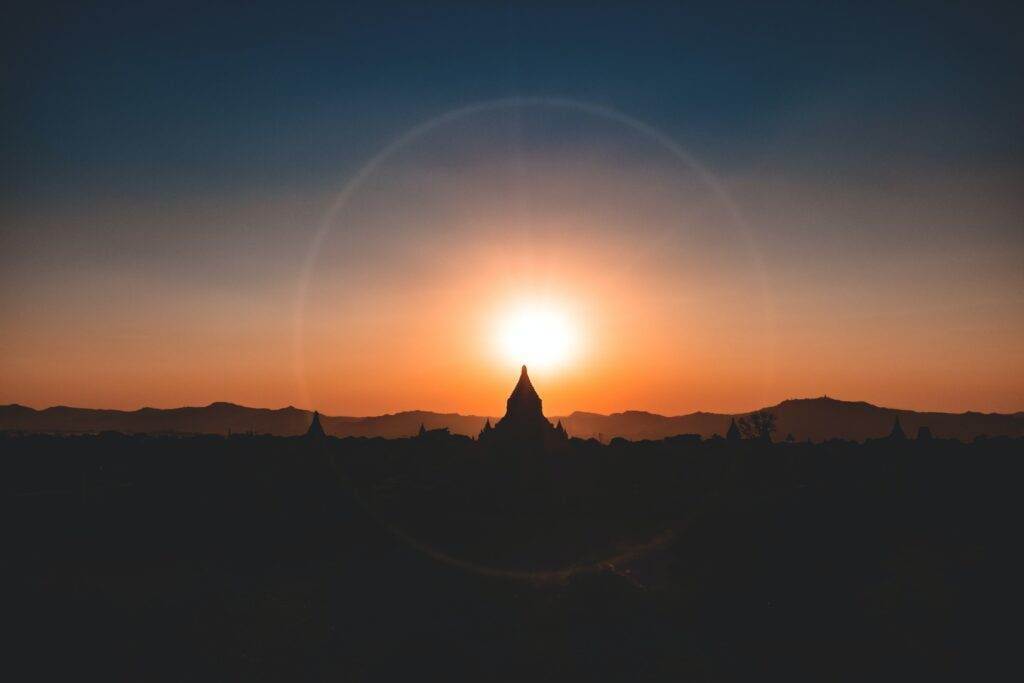 Beijing's Forbidden City, China, influenced its design. Its magnificent beauty is due to features such as golden tiles on its two-tiered roof, flared eaves, and two scholar's courtyards.
It has tranquil surroundings and plenty of space, making it ideal for those seeking a quiet, spiritual, and devotional environment to meditate.
4. Shri Vitthal Hindu Mandir
This traditional Hindu temple in Ontario is dedicated to Lord Shri Pandharpur Vitthal. Seven days a week, the temple is open and holds bhajan-pujas daily at around 6 p.m.
This temple has become an important cultural and heritage centre in Canada, showcasing Hindu traditions.
In addition, prasaad is served to devotees following each puja, bringing the full experience circle. Hindus from all over North America visit this temple to pay their respects.
5. Devi Mandir
This Hindu temple in Ontario was built three decades ago by local Hindus. Mandir is very popular among local Hindus, and people of other faiths also enjoy visiting it.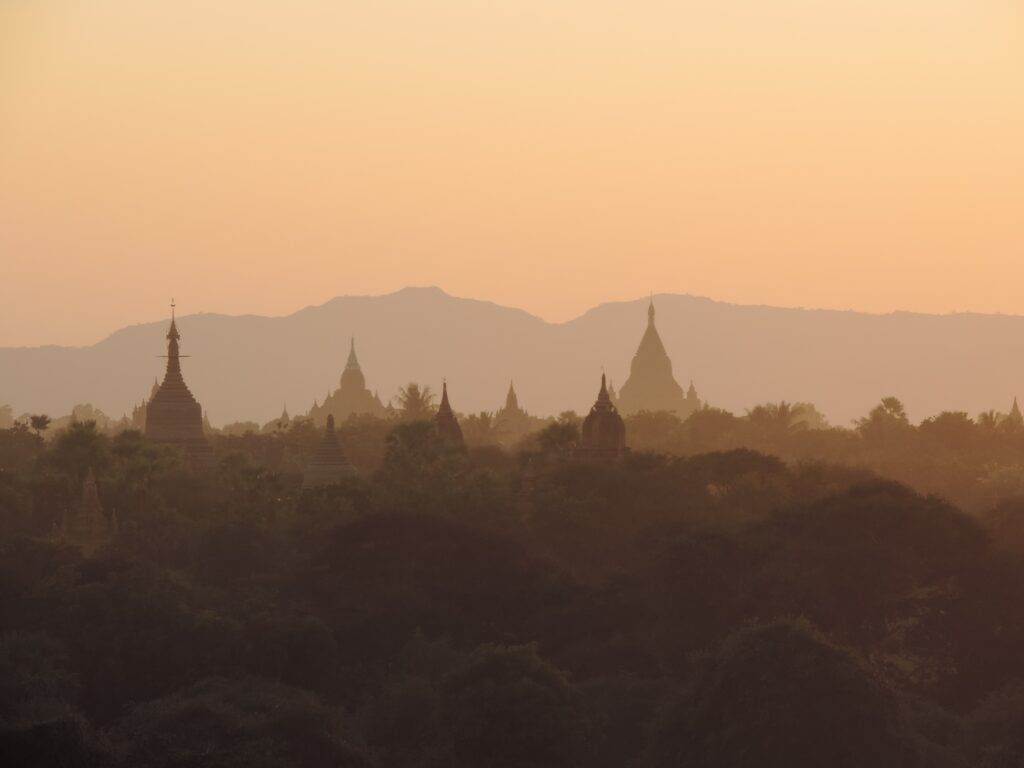 Regular classes on Kirtan and traditional Indian instruments like Tabla are held at the temple regularly, and anyone is welcome to attend. There are Vedic classes for young children. All major Hindu festivals are celebrated with zeal in the temple.
6. Sharon Temple
The Sharon Temple was built in the nineteenth century and still stands today. This historical masterpiece, located in Ontario, Canada, has a rich heritage.
Old trees surround the temple, and the interior resembles 19th-century culture, lending it an ethereal aura. This temple has won the hearts and souls of devotees with its fusion architecture and symmetrical design.
7. Sri Siva Vishnu Temple
The Sri Siva Vishnu Temple of Toronto (North York), Canada, will resume religious services on April 28, 2016, from its new location at 205 Eddystone Avenue.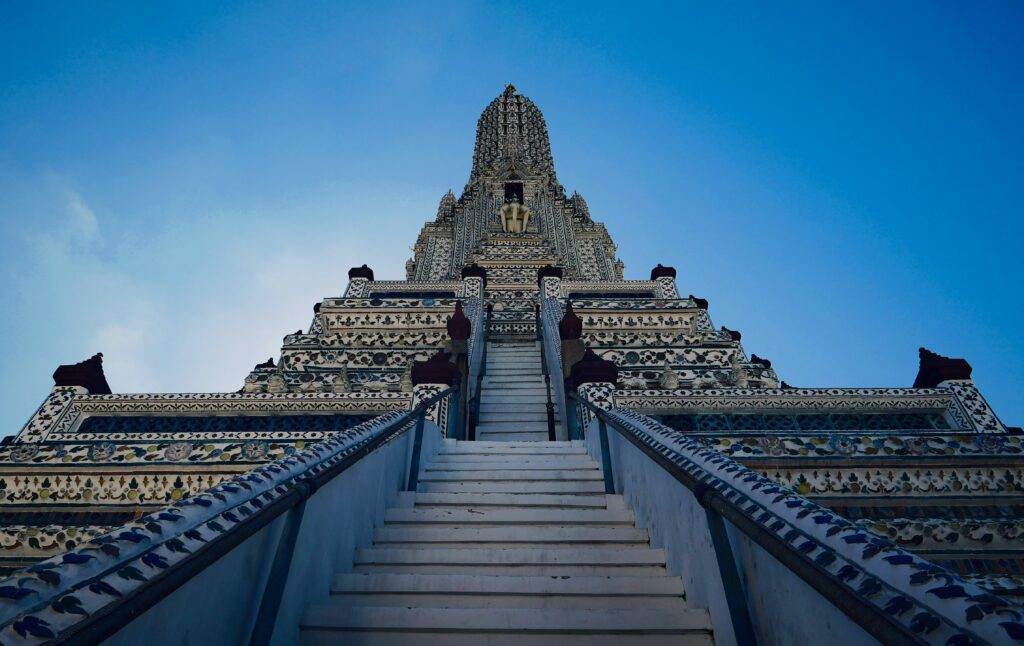 It used to be located at 38 Rivalda Road. Temple requests that all devotees continue to support and visit the temple regularly.
8. Hare Krishna Temple (ISKCON, Brampton)
Hare Krishna chanting is extremely popular among people of all religions and can be done anytime. The food at the temple is the best part, and you can eat as much as you want for a $5 donation.
There are also regular sermons from the Bhagwat Gita, which are popular among the locals. This temple, part of the worldwide ISKCON temple chain, is located on a large plot of land with plenty of space for meditation.
9. Fo Guang Shan Temple
This is a Buddhist temple in Toronto's Mississauga neighbourhood. The temple's beautiful yellow-red architecture is similar to other Buddhist temples. There are numerous gold Buddha statues.
The temple is also well-known for its tea room, run by temple volunteers and serves fruits, tea, and Chinese Laksha noodles. If you consider visiting Canada, this temple should be on your itinerary.
10. Hindu Temple Richmond Hill
The Monument is thought to be the biggest Hindu Temple in North America, having been built and run by Hindus. Following the Agama Sastra traditions outlined in the scriptures.
Mr. V.Janakiraman Sthapathi designed it overall, and he comes from the same architectural family that built the famous Big Temple in Thanjavur, South India, during the Chola period.
To add a touch of traditional temple architecture, two very beautiful vimanas have been built on top of the altars of Lord Muruga and Lord Venkateswara.
11. The Sringeri Temple
The Sringeri temple is one of the best Hindu temples in Toronto, Canada, and Hindus from around the world regularly visit it. The temple honours Goddess Sharadamba.
The temple has a magnificent architecture that is reminiscent of Karnataka temples. This temple is well-known for its authentic Indian architecture and attracts Hindu pilgrims from all over the world.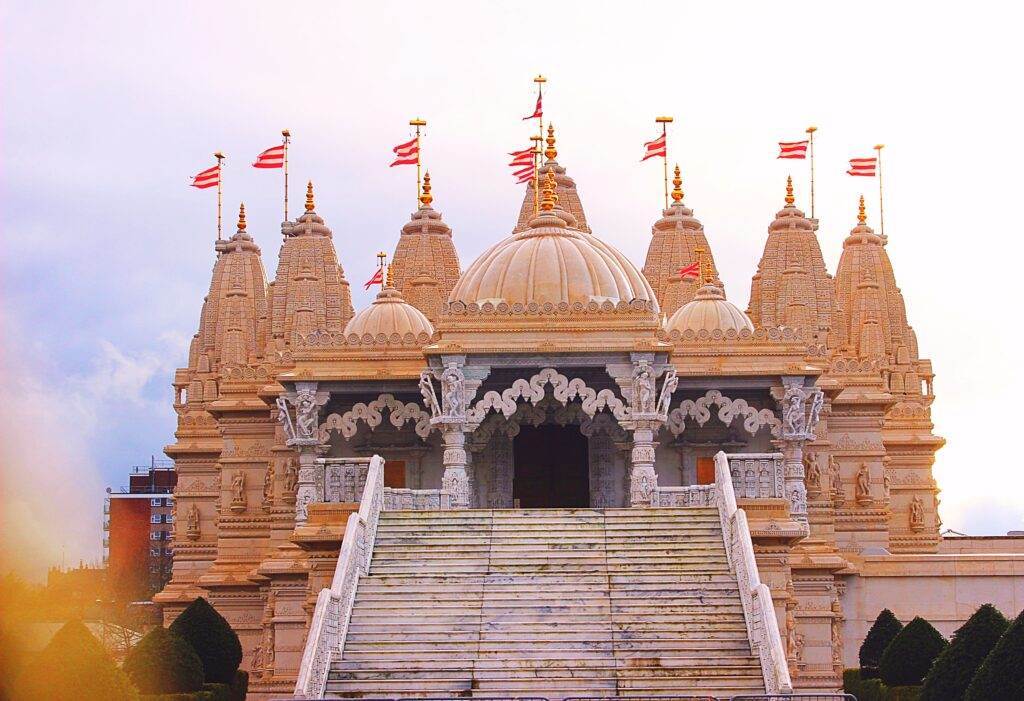 It is built on approximately 30000 square feet of land and is made of marble and granite imported from India. The temple's three main features are a 30 ft. gopuram, an 18 ft. mandapam, and a ceremonial passageway depicting the major events in Adi Shankaracharya's life.
12. Bangladesh Canada Hindu Mandir
Bangladesh Canada Hindu Cultural Society (BCHCS) was founded in 1995 to provide a platform for local Bangladeshi Hindu community members to engage in spiritual and cultural activities.
Since then, BCHCS has provided social services to the community and integrated Hindu socio-cultural values into diverse Canadian societies.
Bangladesh Canada Hindu Mandir (BCHM) was established in 2005 as an associate organization of BCHCS to meet the need for a Temple where local Hindus could participate in their rich religious activities and festivals. On January 25, 2005, the Canada Revenue Agency (CRA) granted BCHM the registered charitable organization status.
13. Hindu Sabha Temple
This temple is a traditional Sanatan Dharma temple with idols of all major Hindu deities and is one of the most well-known Hindu temples in Canada.
Hindu Sabha, a non-profit religious Hindu-centric organization in Canada, built and operates the temple.
14. Guruvayurappan Temple Of Brampton
Another Hindu temple in Brampton, this one is regarded as one of the most beautiful and largest Hindu temples in Canada. The temple is currently being rebuilt, and the temple authority expects it to be finished soon.
15. Toronto Sri Maha Ganapathy Temple
A must-see for Hindu worshipers in and around Downtown Toronto, this temple is well-managed. Regular worshippers visit here to perform their rituals. Mandir also adheres to the Hindu calendar and celebrates all festivals. Evening pooja is a good time to visit. The temple also provides delicious prasad to all visitors.
This is a divine and serene place for Hindu worshippers in downtown Toronto. Temples contain various idols of various deities, including Lord Ganesha. Must go to find inner peace.
16. Sridurka Hindu Temple
The place is impossibly clean. All the idols are dressed so you can feel the divine power from afar and admire them without being distracted.
Most importantly, you cannot take your gaze away from Amman's statue, which is located in the centre. She is as welcoming as a mother awaiting the arrival of her child. Even those who have been ignored or discouraged in life can feel Amman's invitation with her wide open arms when they look at her.
The most important aspect of the Sri Durga Temple in Scarborough is its silence, which allows you to meditate without distraction. When you visit this temple, time seems to stand still because there is so much to admire: the internal architecture, the great paintings of the idols, and the beauty that words cannot express.
17. Hindu Sabha Temple
This temple, located in Brampton, Ontario, has successfully preserved Indian culture and the ancient style of Indian civilization.
This temple was established in 1995 with a single goal: to further the Sanatan Dharma. The Shikharas is the main draw of this temple. The temple has approximately 32,000 square feet of building space, which includes the lower level, main floor, community hall, and kitchen.
18. ISKCON Temple In Ottawa
The ISKCON Temple in Ottawa is considered one of the city's most popular Hindu pilgrimages.
There was an ISKCON centre in this location, which later funded the construction of this magnificent temple.
This temple was built with one goal: to promote societal well-being and spread Krishna consciousness among people.
19. Canada Kandaswamy Temple
Mr. K. Kailaisantha Kurukal laid the groundwork for this magnificent temple in 1998. It is known as the Nallur Kandaswamy Kovil.
A large image of Navalar Peruman can be found in the temple. All of the temple's customs and celebrations are carried out in the same manner as at the Nallur Kandawamy temple in Jaffna, Sri Lanka.
20. Canada Sri Ayyappan Hindu Temple
This temple, known as the Sabarimala of Canada, was founded in 1991.
It was initially rented in a small space, and later in 1998, a separate plot of land was purchased for the temple's construction. This temple is popular among Ayyappa devotees, and the first Kumbabishekam was performed in 2009. Canada is one of the most liberal countries in the world.
21. Jai Durga Hindu Society
Located at Inner Circular Road, New Streed Brampton, Canada. Sati's Heart fell at the Jai Durga Temple in Baidyanath. Sati is worshipped as Jai Durga, and Lord Bhairav as Vaidyanath or Baidyanath.
The Shakthi Peeth is also known as Baidyanath Dham or Baba Dham. Because Sati's heart fell here, the area is also known as Hardapeetha. Lord Bhairav, as Vaidyanath, is revered as one of the twelve Jyotirlingas.
Conclusion
Canada is a country where people of various ethnicities and religions coexist peacefully. The Temples in Toronto are a proud symbol of Canada's multicultural society.
Since 1960, Canada has seen a large Hindu migration. Punjabis, Tamils, Telugu, and Bengali Hindus make up most of the Hindu diaspora.
Temples are important religious gathering places as well as cultural centres. Everyone, regardless of faith or culture, is welcome in these temples.
Don't miss out; book your trip to Canada today.