Cooking
Food
How to Make Butter Tarts? A 2 Step Simple Recipe which you can Make with Ease
Want to make delicious butter Tarts for yourself and your family? We've got you! Here is the best and simplest butter tart recipe you can find on the internet.
What are Butter Tarts?
In case you haven't tasted this traditional dish yet, Butter Tarts are a Canadian delicacy known for their sweet flavour. If you have eaten pecan pie or sugar pie in Canada, then you can probably guess the taste of butter tarts. There are a few ways to make these tarts. These can be made with or without eggs. You can also buy tart shells at a market or bakery near you instead of making them yourself.
A butter tart is also of various types and can be found in different parts of the world very easily. Butter tarts were originally called "border tarts". This is so because border areas were mostly occupied by the bakers of Scotland. Butter tarts are unique to Canada, so the country hosts a festival near Lake Muskoka in Ontario.
There is also an annual event held in Midland, Ontario, in which bakers are invited to participate in a contest and win exciting prizes. It is the world's largest celebration of butter tarts and a great opportunity for bakers around the world to earn a reputable place in their careers.
The very first butter tart recipe was seen in Ontario in 1900 in the Women's Auxiliary of the Royal Victoria Hospital Cookbook, but they initially gained popularity in the late 1920s and early 1930s. Even though no book mentions its exact origin. Butter tarts have been in Canada for a long time and have many family recipes. The elders of the family pass on the recipe to their children and grandchildren, ensuring that the family tradition of making butter tarts continues in perpetuity.
It is simple to make this great desert. Let's get started.
What utensils will you need?
2 bowls
an oven
a whisk, or simply a beater
muffin moulds
spoons
How to Make the Tart Shells:
Prep time: 15 minutes
Bake time: 30 minutes.
Total time: 45 minutes.
Ingredients:
These ingredients will yield 9 tarts with 2.5-inch tart moulds.
1/3 cup butter softened (75g)

2 tbsp sugar (25 g)

1 egg yolk at room temperature

1 teaspoon vanilla extract

1 cup of all-purpose flour (130 g)
The Process of Making the Tart Shell:
First, pour the butter and sugar into a large bowl. Now mix them.

Add the egg yolk and vanilla extract to the container and whisk the contents.

Pour all-purpose flour into the bowl and mildly mix the ingredients until it turns into a dough.

Let the dough chill in the fridge for 25–30 minutes after wrapping it in plastic wrap.

Once the dough is chilled, line the tart moulds with a single layer of the dough. To prevent the dough from sticking to the moulds, brush them with oil or butter. You can also use the round cookie cutter for this, which will make it easier to cut the correct size of dough to line the moulds.

Remember to prick the base of the shell with a fork. (To prevent the pastry from rising by allowing all the excess air to pass.)
Wrap the shells in plastic wrap and place them in the freezer for 6-10 minutes.
Preheat the oven to 340°F (170°C) and keep the muffin cups in the oven for 20 minutes or until the shells are golden brown.
Note: To make the shells without eggs, create the dough without eggs as an ingredient and bake it for 20 minutes at 160°C. You can also use any good pastry recipe to make the shells, which will help you make the lightly floured surface for your tart filling.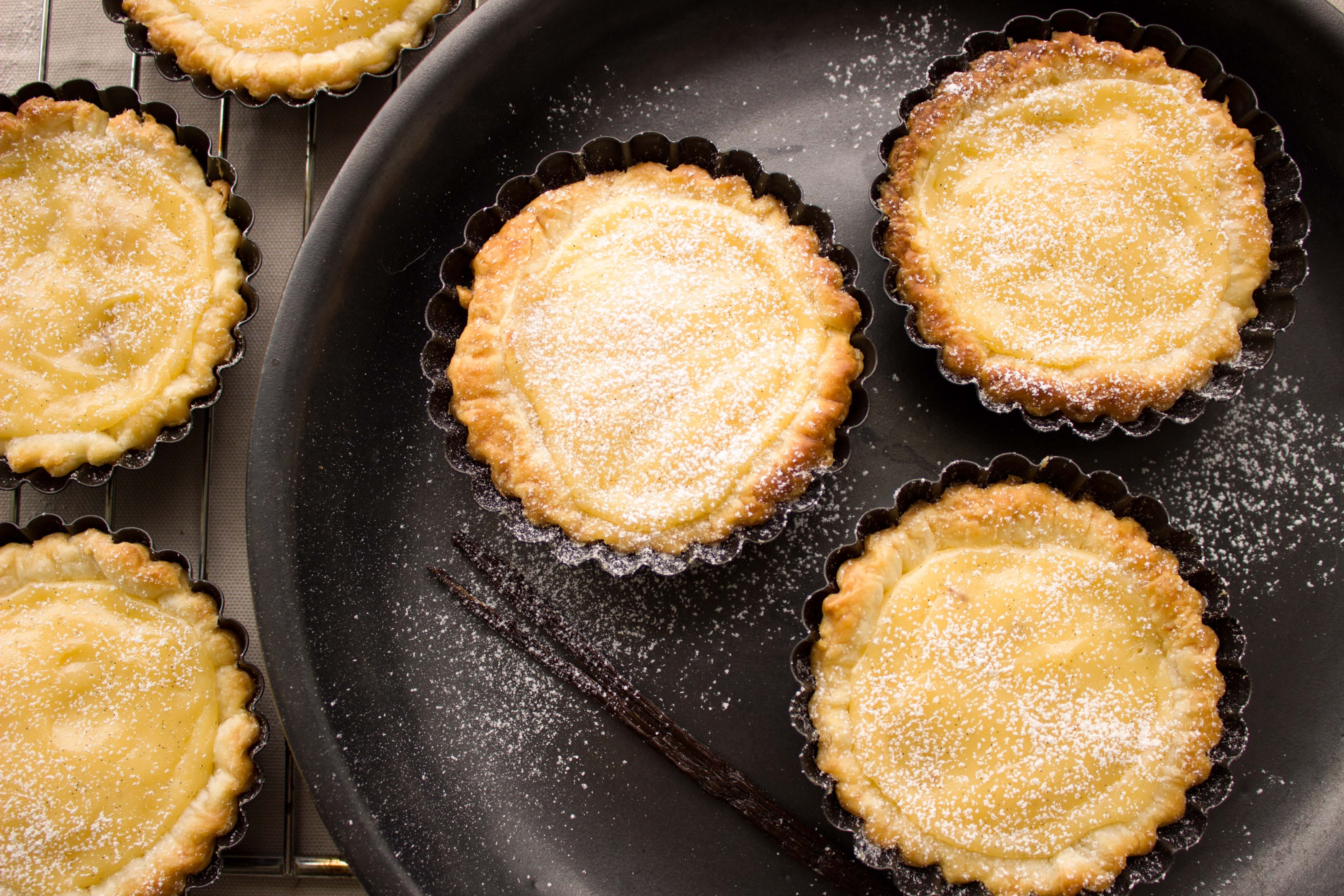 The Recipe for the Butter Tart Filling is as Follows:
Prep time: 10 minutes
Bake time: 15 minutes.
Total time: 25 minutes.
Ingredients:
3/4 cup of brown sugar

1/4 cup butter

1 egg

1 cup raisins

1/2 cup chopped walnuts.

1 tablespoon heavy cream
The Process of Making the Filling:
Take a small bowl to add butter and brown sugar together. Beat it until it's well mixed.

Add the egg to the bowl.

Add the raisins and chopped walnuts and mix all the ingredients nicely. Also, add the heavy cream and mix again.

Now take out the tart shells from the fridge and fill the shells, not more than halfway, with the butter tart filling you just created.

Bake the tarts at 170 °C for about 15 minutes.
Enjoy these delicacies with your family after the baked butter tarts cool completely; then it is dessert time. In some cultures, tarts are also served warm and are known to have a much better flavour that way. Have a sweet day with this sweet dessert.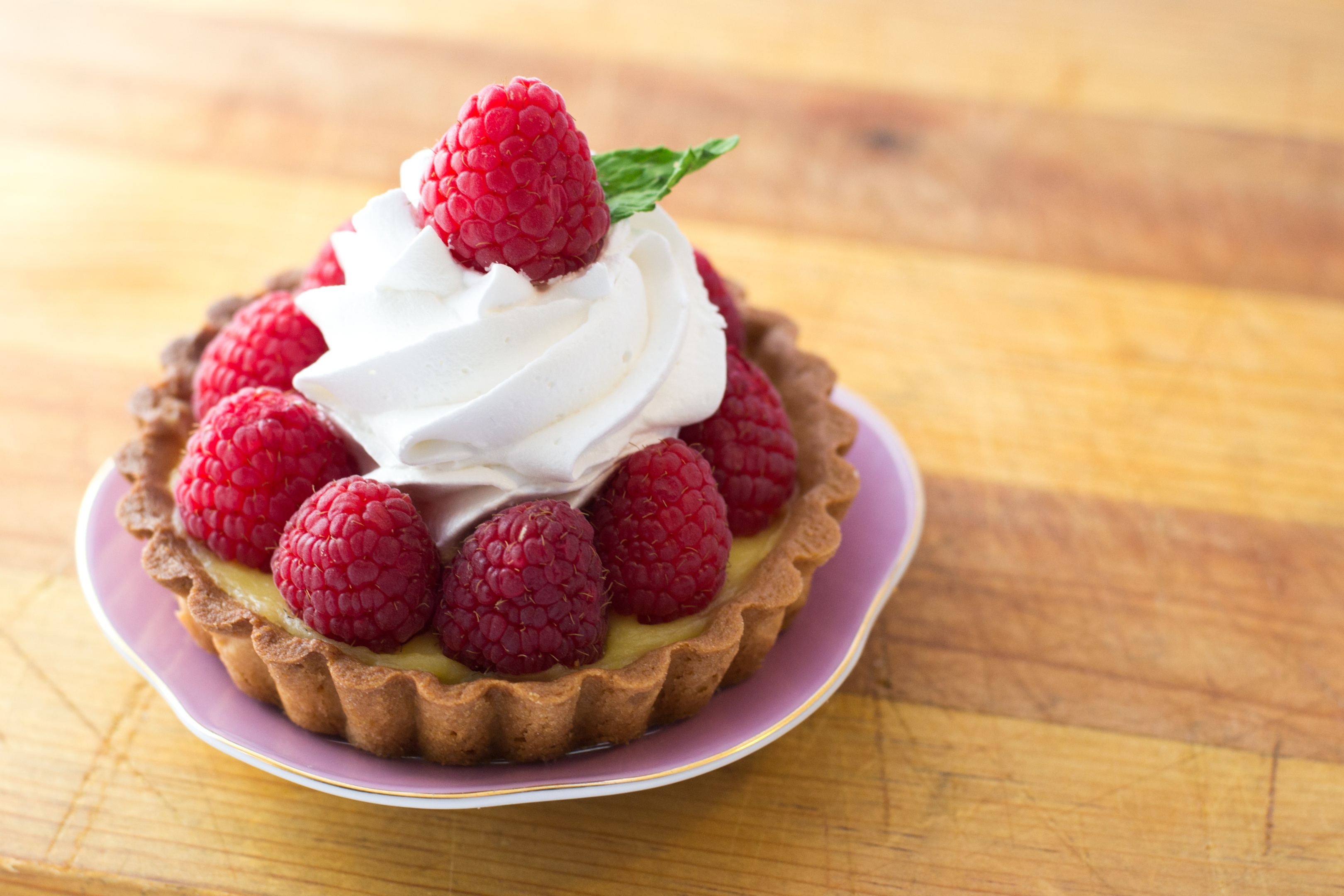 To Make the Butter Tart Filling Without Eggs:
Things you Need:
1/4 cup butter (salted), softened.

1/4 cup brown sugar

2 teaspoons corn flour

1/2 cup Greek yogurt

1 teaspoon vanilla extract

1/2 teaspoon cinnamon powder

1/4 teaspoon nutmeg powder
And you may add raisins if you wish to.
How to Make the Filling:
Preheat the oven to 250°C and start preparing the eggless filling.

Stir the butter, flour, and brown sugar together with a whisk.

Add the other ingredients one by one and mix well.

Now, half-fill the previously prepared shells and cook them in the oven for about 10–15 minutes.

Let the tarts cool, then serve them to your guests and family. (These tarts can also be served warm.)
Calories: 36 kcal per serving
Fat: 3 grammes or less per 100 grammes
Cholesterol: 45 mg per serving.
Some other famous Canadian desserts are tourtière, pâte chinoise, and sugar pie pastry. Someone with a sweet tooth might enjoy these. Some other ingredients are used to decorate and enhance the taste of butter tarts. People use whipped cream, strawberries, blueberries, chocolate chips, syrups, and coloured sprinkles.
There are also tarts from France, Argentina, and Italy that are equally famous and tasty and deserve a try. In Algoma, Canada, tarts are also made using corn syrup, and sometimes fresh maple syrup is also used. There have been many experiments with the recipe for butter tarts, which you can easily find on the internet. Each bakery or family in Canada has made their own version of this tart.
If you do not wish to cook butter tarts, then definitely check out bakeries in local markets in Canada to feel the deliciousness of this mouth-watering dish. You don't want to miss this experience of a lifetime.
Some Things that you Might want to Try Differently include the Following:
You can also add chocolate syrup, chocolate chips, maple syrup, or dried fruit on top of the tarts to increase the presentation and taste.

You can also add lard when making the pastry dough to give it more of a Canadian taste. Lard is like Canadian butter that can be found at your nearest grocery store.

You can also skip the sugar in the pastry dough if you do not have much of a sweet tooth but would like a little sweetness in the dough. But do add a pinch of salt to the dough for some flavour.

The tart shells can also be used for making other types of tarts famous in France, Italy, and more. So, this tart shell recipe will help you with many more delicious dessert recipes.
Frequently Asked Questions
1. Do raisins belong in butter tarts?
Raisins are a part of many Canadian recipes and add much flavour to the desserts, but if you do not like them or are allergic, you can skip the raisins in the tart filling.
2. Why is this a great recipe?
This is one of the classic butter tart recipes that lets you create these Canadian treats most simply and deliciously. This recipe helps you create the most similar taste that is present in the tarts of Canada.
3. More delicious dessert recipes like the butter tarts?
Here they are, hot chocolate bombs and banana pancake recipes.
4. Are butter tarts and pecan pies the same thing?
No, butter tarts and pecan pie pastries are not the same things, as butter tarts are known for their runny fillings with dried fruits like golden raisins and walnuts. Pecan pie is known for having pecan seeds, and it also has a solid filling that makes it more like cake than butter tarts.
5. How should I store butter tarts?
Butter tarts must be stored in an airtight container and stored in the fridge. They can be frozen for about 4–5 months if kept in the fridge at an appropriate temperature. They can be stored for 5–6 days, but if you store them at room temperature, they might get worse in a day or two.
6. Can butter tarts be frozen?
Yes, butter tarts freeze well and can be stored for months; that's why they make a great dessert to gift.
I hope this clears up all the doubts you might have in your mind. Let us know how you like these tarts and share any tips you have for others when they make them. This delicacy from Canada deserves to be famous everywhere in the world, as family recipes do not deserve to die. It is more than just a dessert; it is a tradition.