Three factors that contributed to the formation of Alaska glaciers are a lot of snowfall, chilly summers, and the gravitational movement of the ice. In geographical locations where annual snowfall exceeds annual melting, glaciers form. There are endless opportunities to observe glaciers in Alaska. The Portage Glacier, Mendenhall Glacier, Columbia Glacier, Hubbard Glacier, Only Glacier, Exit Glacier, Spencer Glacier, Ruth Glacier, Worthington Glacier, Holgate Glacier, Margerie Glacier and Lamplugh Glaciers are some of the marvellous Alaska glaciers.
Alaska Glaciers
Eight different types of glacier forms can be found in Alaska. They include ice aprons, hanging, cirque, tidewater, mountain, valley, and piedmont glaciers. Some other glacier-related landforms are rock glaciers, ice shelves, ice caps, ice streams, and ice sheets.
Massive chunks of accumulated ice over centuries, glaciers, are slowly moving dense ice forms. Alaska is one such place where ice never ceases to exist. Masses of glacial ice can be viewed from nearly every roadway that crosses Alaska's high mountains. People capable of taking short hikes can get near too many terrestrial glaciers. You can see Alaska glacier ice calving in some of the best locations in the world by taking a cruise ship during the day, glacier hiking through the hiking trails or fishing out in the sea. Among these locations are the coastal mountains of Southcentral and Southeast Alaska glaciers.
The hub of a wheel with glacier spokes is an icefield. They are areas where snow is accumulated over a sizable area, typically causing glaciers to move in several directions. Harding Icefield, accessible via Exit Glacier close to Seward, is a well-known icefield. Mountain glaciers, also known as alpine glaciers, originate high in the mountains and flow through hilly regions typically bordered on both sides by peaks.
Mountain glaciers that move over a long distance through a relatively level valley on their way to their terminus are known as valley glaciers. The Matanuska Glacier, located close to Glacier View off the Glenn Highway, is the valley glacier that is most well-known in Alaska. The Valdez Glacier in Valdez is another prominent valley glacier. It ends at a lake, where icebergs are produced.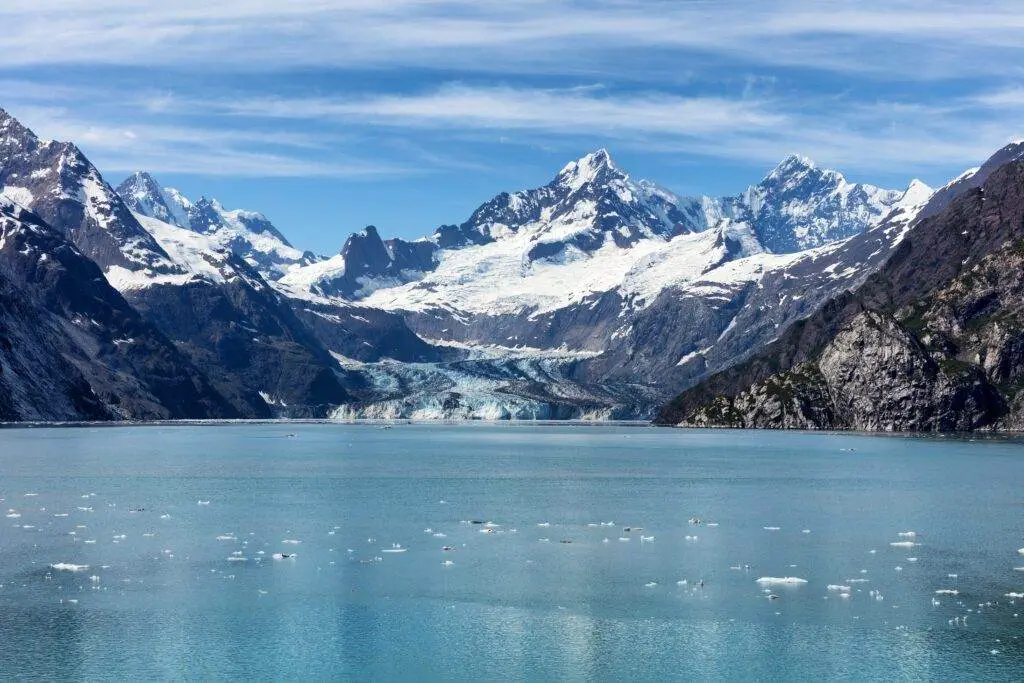 Tidewater glaciers are those that from the valley go up to the oceans. Since their endpoint frequently consists of a huge vertical face, they look stunning to watch. The Taku Glacier in Juneau, the Columbia Glacier close to Valdez, and many of Glacier Bay National Park glaciers are well-known tidewater glaciers in Alaska.
Hanging glaciers are frequently the result of a mountain or valley glacier melting and its terminus now leaning against a cliff or a steep mountainside. Alaska is home to several well-known hanging glaciers, such as Rainbow Glacier in Haines and Twentyseven Mile Glacier near Valdez at 27 Mile on the Richardson Highway.
Piedmont glaciers are glaciers that overflow into a flat valley before starting to spread out. Malaspina Glacier is a notable example of a piedmont glacier close to Yakutat.
The glaciers known as circles resemble bowls and are typically broader than long.
Small glaciers known as ice aprons cling to the rocky faces of high mountains. Because they are so minor compared to the numerous larger glaciers, most ice aprons of Alaska glaciers are unnamed.
Let us see the best must-visit Alaska glaciers.
1. Mendenhall Glacier
The glacier, 21.9 kilometres long and part of the Tongass National Forest, is protected by the federal government and the surrounding area. Originally called Sitaantaago, or The Glacier Behind The Town, the glacier itself went by that name. In 1891, it was renamed in honour of Thomas Corwin Mendenhall, a well-known American meteorologist and self-taught physicist.
The Juneau Ice Field, where Mendenhall Glacier originates, reaches Mendenhall Lake. The glacier may be seen clearly from the water in the iceberg-filled lake. The lake was created in 1929 when the glacier retreated. Since then, the glacier has receded an additional 2.82 kilometres.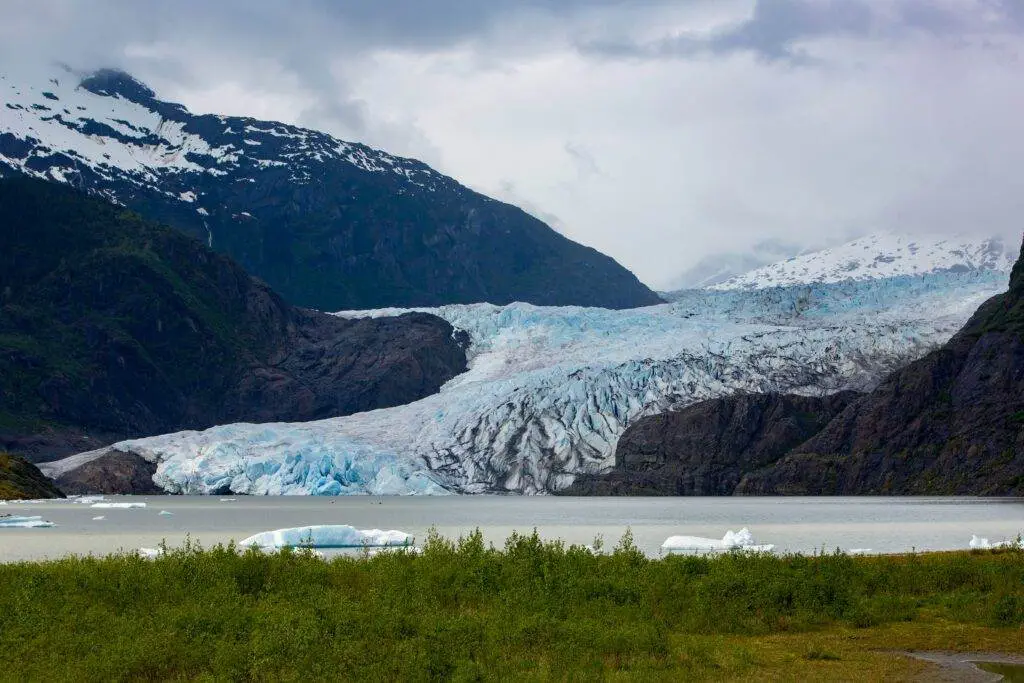 The West Glacier Trail is relatively level and begins in a forest. However, in certain places, it can be rather muddy and treacherous. Later, the trail will be obstructed by roots, elevated rocks, and other things. The path becomes fairly steep further down, requiring one to navigate bridges, stairs, and switchbacks. Even a giant boulder with a knotted rope can help you climb over it on one section of the trail. Additionally, numerous loose rocks at the end of the route must be avoided to reach the entrance to the ice cave.
Mid-May to mid-September is the ideal time to see the Mendenhall Glacier and the ice caves. These spectacular ice caves were partially formed by the Mendenhall Glacier melting. Inside these magnificent caves, the continuing retreat of the Mendenhall Glacier always produces fresh perspectives. Ultimately, the ice caves will vanish as the glacier goes extinct. Once inside the ice caves, one is exposed to a frozen vision of vivid blue. Flowers and comfortable temperature in the surroundings differentiate it.
Starting at Mendenhall Lake, the 3.1-mile East Glacier Loop trek leads to the East Glacier. The east glacier trail gains height by roughly 650 feet, and there are a few difficult portions. Excellent views of waterfalls, abandoned mining machinery, Mendenhall Glacier, and Lake may be seen on this trip. Even though it is a tiresome trail, families and hikers can easily complete it. You won't want to skip this walk when you're in Juneau icefield because it's unquestionably one of the greatest on our trip!
2. Hubbard Glacier
Hubbard Glacier is the largest tidewater glacier in North America and the largest calving glacier. Its terminal face is 600 feet tall, 7 miles broad, and 76 miles long. Mount Logan is the second-tallest mountain in North America. The Hubbard Glacier begins from Mt. Logan in Canada's Yukon Territory and travels through Wrangell-St. Elias National Park & Preserve to reach its destination.
Gardiner Hubbard, the first president of the National Geographic Society, was honoured with a glacier name in 1890. After moving forward during the last 100 years, the Hubbard Glacier's terminus is now stable, and the glacier is still thickening. In some places, the terminal face glacier is nearly 2,000 feet thick, and the ice you see was once snow that fell 500 years ago.
Russell Fiord was cut off from the ocean during the summer of 2002 when the Hubbard Glacier in Yakutat surged ahead. Later, water trapped behind the large ice dam broke through it and flushed out, reconnecting the cove to the ocean. This drama took place over a few months instead of being a lengthy event that lasted hundreds of years. However, this brief change was minimal compared to the overall terminal progress during the previous 100 years. In contrast to this recent growth, most glaciers in Alaska and around the world are retreating.
Said the glacier will advance when it gains more ice. But when a glacier loses more ice than it gains, it retreats. All glaciers modify their overall size to balance the amount of ice they obtain (as snowfall) and the amount they lose.
In Alaska, the melt is the main way glaciers lose mass, and as the temperature has warmed, melt rates have increased, causing them to retreat. However, icebergs calving into the sea also cause tidewater glaciers like Hubbard Glacier to lose bulk. Therefore, they change in size in response to the climate and the unique geometry of their tidewater glacier terminus. Climate only has a small role in this complex interaction with the ocean.
3. Knik Glacier
The Chugach Mountains in Alaska's northernmost region are where Knik Glacier is situated. One of the largest ice rivers in central Alaska is almost 28 miles long and 5 miles wide. A special microclimate or "rain shadow," often known as Alaska's "sunny glacier," has produced a diversified environment. A northern desert surrounded by waterfalls, glaciers, and snow-capped mountains.
The Kink River, which empties into the Knik Arm region of Cook Inlet, is fed by the Knik Glacier. The Chugach Mountains are home to one of Southcentral Alaska's largest glaciers, Knik Glacier, which is 25 miles long, 5 miles, and 200 feet thick. The glacier has no vehicle access. About 50 miles north of Anchorage is where it is situated.
Knik Glacier is the focal point of the 17,000-acre Lake George National Landmark. At the time of its classification, Lake George was the largest glacier-dammed lake and one of the most dependable self-dumping lakes in North America. Less than a mile away, the Colony Glacier, another spectacular natural wonder, ends. It takes only 15 to 20 minutes to drive from Seward, Alaska, and another 15 to 20 minutes to walk from the parking lot to the glaciers to Star Trek VI, including the Knik Glacier. The scene when Captain Kirk and Dr. McCoy are liberated from the Klingon prison on the ice planet Rura Penthe.
The background for Lauren Daigle's music video for the song Rescue was the Knik Glacier.
4. Matanuska Glacier
One of the most spectacular glaciers in the world, Matanuska Glacier, was formed more than 10,000 years ago. Despite climate change, the glacier hasn't changed much over the previous few decades, even if it has receded. The Matanuska Glacier is a significant ice flow that is 27 miles long, 4 miles broad at its terminus, and averages 2 miles wide. This glacier is located on the valley floor and is a valley glacier. Today, smaller alpine glaciers hanging off mountain peaks make up most of the glaciers in Alaska.
In the summer, the Matanuska glacier flows at one foot per day. The ice forms up-glacier and advances to the terminus in roughly 600 years. Due to gravity, a dynamic glacier's ice always advances; like water in a river, the glacier's ice will flow down the Matanuska valley. The glacier terminus recesses when the ice melts faster than snow falls.
People have spent decades investigating this glacier next to the road and amassing a collection of tales about their adventures. Locals and glacier guides provide first-hand accounts of historical events and the glacier's evolution over time. The images illustrate the melting of surface ice at a rate of one foot per year. Due to this downcasting, the glacier's height is decreasing, the glacial lake is growing, and a larger area of the stony moraine is being left near the glacier's toe.
The path to the fall was once bordered with gleaming white ice, but now it is covered in rocky moraine and dirt cones. In the past, climbers have ascended enormous walls close to the ice fall. These walls have shrunk into little ice mounds. Water flowing over the diminishing ice beneath has increased the size of the glacial lake. Large chunks of ice are occasionally torn loose by water currents and float on them as icebergs. This has been photographed and documented for the past five years.
5. Exit Glacier
Exit Glacier, located in Kenai Fjords National Park, is one of the most well-known. The lovely surroundings represent the consequences of climate change hurting the environment. It's a significant stop on our Glaciers & Grizzlies Adventure tour and a fan favourite. Because of this, we'd like to share some fascinating information about this little glacier that has influenced tourists and conservationists worldwide.
Currently, Alaska has over 100,000 glaciers that cover around 28,000 square miles. Most of them go unnamed, but a handful, like an Exit Glacier, has developed into well-liked tourist attractions. In Antarctica, researchers discovered an ice field that they think is 1.5 million years old. By comparison, Exit Glacier is a newborn. It belongs to the Harding Ice Field, formed about 23,000 years ago.
Exit Glacier is one of the 35 glaciers that make up the Harding Ice Field in Alaska's Kenai Mountains. The first mission to successfully cross the ice field did so in 1968. They descended a glacier they later called "Exit" to mark when they finally left the ice area.
Its popularity is also because it is one of the most accessible glaciers. It takes only 15 to 20 minutes to drive from Seward, Alaska, and another 15 to 20 minutes to walk from the parking lot to the glacier's toe. Travellers of all ages and abilities can approach the glacier up close thanks to the path's accessibility for wheelchairs and strollers. Mountain goats, bears, moose, eagles, and marmots are among the many wild species and birds that call it home. It is a section of Alaska's Kenai Fjords National Park.
Conclusion
Alaska's abundance of pristine wilderness will alter even the most seasoned travellers' perceptions of public lands and their human impact on them. From the biggest national park in the nation to a river teeming with feeding grizzlies to important locations rich in Native American heritage. There are glaciers all around Alaska. Most of the country's glaciers are found in Alaska, where 100,000 occupy about 30,000 square miles. Among the easiest to reach are the glaciers close to Anchorage.
National parks contain about one-fourth of the Alaska glaciers. Among Alaska's most stunning national parks are Elias National Park, Glacier Bay National Park, Sitka National Historical Park, Denali National Park, Chilkat State Park, Kenai Fjords National P Arctic Park, Katmai Park, Wrangell-St.ark.
An adventurer's paradise, the 5,000 square kilometres Glacier National Park is situated at the southernmost point of Alaska between the Pacific Ocean and Canada. However, due to global warming, researchers believe glaciers will have vanished as early as 2030. You can bet on a restful night's sleep after your hikes on the Grinnell Glacier Trail or the Iceberg Lake Trail in one of the old inns, log cottages, or chalets in the wilderness.
You may get a close-up look at Alaska's breathtaking splendour in Glacier Bay National Park, which spans an area of over 1.3 million hectares with craggy mountains, amazing glaciers, unspoiled coasts, and deep fjords.