We all need a break, and what better way to spend time with loved ones than going out for a quick bite? Considering taking a weekend break to dine at the top restaurants in Oakville?
For a romantic retreat, a family vacation, or a business trip, reserve a top-rated hotel in Oakville. In this article we have compiled a list of top restaurants in Oakville so that you can compare and pick the best restaurant, we have included the best that the City has to offer so that you can choose the best of the best for your special night out.

1. Hexagon Restaurant
The most acclaimed restaurant in Oakville, if not the entire province or nation, is Hexagon Restaurant, which is situated in the center of the city. The upscale fine dining establishment is situated next to Soontorn Bahn Thai on Lakeshore Road in the charming Oakville Towne Square.

A la carte menus are available for lunch and Sunday brunch at the contemporary French restaurant Hexagon. The restaurant serves a tasting menu for supper. The 48-seat establishment, which takes its name from the French hexagon, has an entertaining open kitchen right next to a semi-private dining area. Up to 20 diners can be seated on a patio that views out over the city square during the warmer months.

Rafael Covarrubias, an accomplished executive chef, oversees the kitchen. Covarrubias, a Mexican native, initially introduced his culinary skills to Canada at Calgary's MARKET Restaurant. In February 2017, he participated in the downtown Oakville opening of Hexagon. In November 2019 in New York City, Covarrubias won the North American San Pellegrino Young Chef Competition.

2. Pizza Nest
Pizza Nest's owner and founder, Tarun Rawat, said, "I studied hospitality and tourism management at Niagara College and worked for many years in the restaurant industry. I was motivated to create my pizza in Oakville after working at Pizzaiolo. The name of Tarun's wife and daughter's tiny family-run restaurant serving casual Italian pizza in Oakville came from them.

The intimate dining area, which has seating for 20, is located inside the charming Italian eatery. Local Ontario craft beer and VQA wines can be found by swiping your finger down the beverage menu.

In the back, cooks slide thin-crust pizzas out of the oven as diners peer in from the dining area. Be sure to get a variety of fresh salads, meatballs, lasagna, crispy calamari, and prawns in addition to Pizza's Nests' wonderfully cooked pies. It's innovation and homely environment make it stand out as one of the top restaurants in Oakville.
3. Oliver's Steakhouse
An iconic restaurant in Oakville, Oliver's Steakhouse has been family-run since 1969. 2018 saw Michael Dabic and Chef Derek von Raesfeld revitalize the restaurant in the heart of Oakville. The two are also the brains of Michael's on Simcoe, a well-known steakhouse in Toronto.

One of the most romantic restaurants in downtown Oakville is the 110-seat eatery. One of the most popular dining rooms in town for celebrating special occasions like birthdays, anniversaries, and Father's Day is known for its exquisite décor and also being one of the top restaurants in Oakville.

You can find lighting chandeliers, framed old black-and-white photos, and glowing, temperature-controlled wine shelves inside Oliver's restaurant.

The greatest steakhouse in Oakville is Oliver's, which wins the title. To create dishes with clear, rich flavors, chef Derek Von Raesfeld uses only the highest-quality seasonal ingredients and expertly executes both classic and modern cooking methods.

4. Beacon Social House
In the former location of Corks Restaurant in the heart of Oakville, Beacon Social House opened its doors in April 2022. The restaurant business Aidan Hospitality, located in Toronto, has created its first culinary concept for Oakville (Folly Brewpub) which is one of the top restaurants in Oakville.

In Oakville, the proprietor had always wanted to operate a restaurant. Because Oakville is so lovely, his family frequently spends weekends here or stays for extended periods. The elegant décor of the 110-seat fine dining establishment in downtown Oakville features a sizable cocktail bar, cozy dining nooks covered in curtains, and an outdoor patio with views of Lakeshore Avenue.

Cook Raj of Beacon Social House has collaborated with the organization over a long period and most notably at The Wallace Gastropub in Midtown, where he served as chef for ten years. The menu at Beacon Oakville features several mussel bowl options, crispy arancini, veal schnitzel, and a magnificent cowboy steak.
5. Sotto Sotto
One of Toronto's top Italian restaurants for almost 30 years is Sotto Sotto. At luxurious events held during the Toronto International Film Festival, the Yorkville restaurant on Avenue Road is most known for having some of the biggest A-list celebrities in the world as guests and one of the top restaurants in Oakville.

Sotto Sotto opened a sister establishment in downtown Oakville after 26 years of serving elegant pasta and precisely poached lobster to Toronto's social elite. 2019 saw the official opening of the opulent Italian restaurant on Trafalgar Road, which is located on the ground floor of the opulent Randall Residences.

Freshly cooked soups, antipasti, salads, homemade pasta, seafood, and meat are all available on the menu, along with traditional thin-crust pizzas and tiramisu with booze for dessert.
6. Shanghai Alley Gourmet
Shanghai Alley Gourmet, which debuted in April 2021 in Downtown Oakville, is owned by Lan Sun.

Shanghai, one of the most populous cities in China, is known for its cuisine, which stresses the use of seasonings while preserving the natural flavors of raw materials. Because great food is frequently pickled in wine, dishes typically appear crimson and glossy. The soup dumpling dish known as Xiaolongbao is one of our favorite Shanghai dishes.

Up to 30 people can be seated in the Shanghai Alley dining room, which also has a lovely patio during the nicer months of the year.

When preparing dim sum dumplings, Sun continued, "I utilize lots of natural colors, for instance, I use green spinach, yellow pumpkin, as well as red and purple beets to make doughs that appear unique."

Chinese chef Yanpeng's journey to culinary stardom began with very small beginnings. He would get up every morning at six and go with his mother to the local farmers' market to get the best meats, fish, and veggies. He spent his first 18 years in New Zealand before arriving in Canada at the age of 20. He has ten years of experience working in commercial kitchens.

7. Kibo Sushi
With more than 30 sites in the Greater Toronto Area, Kibo Sushi House is a franchise that is expanding. Originally, Jeff and Alvin worked at the Liberty Village Kibo Sushi House. They saw the eventual move of Alvin to Oakville as a fantastic chance to grow and open another location in Oakville.

Being one of the top restaurants in Oakville, the dining room of Kibo Sushi Oakville on Lakeshore Road has 40 seats, and during the warmer months of the year, a sizable patio is open for al fresco Japanese dining. It is one of the top restaurants in Oakville if you're craving some good sushi

If you visit Kibo Sushi Oakville for the first time, be sure to try their trademark dish, the Kibo Signature, which is a California Roll with salmon and scallops that have been burned on top.

The comprehensive menu at Kibo Sushi, which features sashimi platters, creative sushi maki rolls, nutritious salads and soups, tataki, tartar, tempura, sushi pizza, dumplings, bento boxes, donburi bowls, and udon noodles, is what we love the most.
8. August 8
One of the top restaurants in Oakville, All-you-can-eat sushi and Cantonese-style dim sum is served at the well-known local chain restaurant on August 8 in Oakville. Additionally, the chain runs eateries in Toronto, Brampton, Burlington, and Hamilton. Conveniently situated in the plaza at Dorval and the QEW is August 8 Oakville. A Metro, Boston Pizza, Marshalls, Staples, Kenzo Ramen, and LCBO are nearby.

The first August 8 Restaurant location opened in downtown Hamilton in 2008, marking the establishment of the business. It was acknowledged as the first restaurant of its sort in the region to bring the best elements of both Japanese and Cantonese cuisine as a novel dining concept.

The delicious food on August 8 is a gourmet joy. August 8 is a culinary experience that is genuinely one-of-a-kind, with savory and sweet delicacies that stimulate the tongue and a warm and inviting elegant ambiance. The teppanyaki grill, the dim sum menu, and fresh sushi & sashimi are all available to guests.

9. Maro's Bistro
Owner Maro Al Chamaa, who is of Lebanese descent, acquired Canadian citizenship in 2016. His favorite saying, "The food is soon gone, but the memories stay forever," is written on the wall above the restaurant's back counter. Don't only dine out; have dinner at home instead.

Maro's is one of the top restaurants in Oakville for Middle Eastern cuisine and is known for its grilled meats, fresh salads, flaky flatbread, and flavorful seafood. The restaurant on Kerr Street also serves a variety of vegetarian and vegan options, including tahini, hummus, and spicy eggplant.

You'll find familiar flavors from the Mediterranean if you've been to Dubai, Israel, Egypt, Morocco, Jordan, or Turkey. Some of Oakville's best Persian cuisine is additionally unique to Maro's Bistro. Be sure to sip some Turkish coffee or Persian tea after dinner while enjoying a flaky slice of baklava.

Avocados, kale, cracked wheat berries, vermicelli, red cabbage, caramelized white onions, mixed peppers, cucumbers, and sumac vinaigrette make up the Samson and Delilah salad.

The Veggie Tower includes grilled seasonal veggies, Moroccan couscous, cracked wheat berries, dried apricots, prunes, hummus, and avocado.


10. Stoney's Bread Company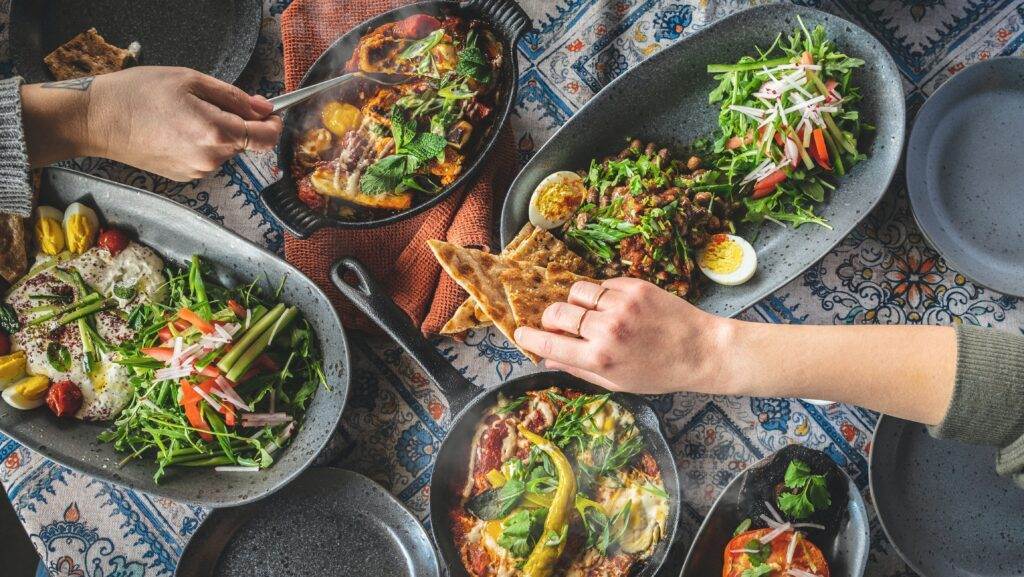 One of the top restaurants in Oakville, Kerr Street Village is Stoney's Bread Company in Oakville. The relaxed family-friendly restaurant offers well-known classic dishes with a contemporary touch.

Stoney's Bread Company was founded by friends and co-owners Steve Chabot and Blake Stoneburgh in 2004. The restaurant's name was influenced by Blake's father, Norm Stoneburgh, who played football. He gained notoriety as "Stoney" while playing with the Toronto Argonauts for 13 seasons.

There is plenty of natural light at Stoneys Bread Company because of the floor-to-ceiling windows. Booth and wooden tabletop seating are available in the dining area's open layout. Vintage portraits in black and white hang on cream-colored walls, while old lights swing from the ceiling. One of Oakville's top brunch spots is the well-liked Kerr Street diner, which is a local favorite. The menu offers a variety of delectable sandwiches, homemade french onion soup, fresh salads, inventive pasta bowls, thin-crust pizzas, and more.

11. Blondies
The Food Dudes, the same people behind Sara and OMAW, are the makers of the Toronto-based pizza restaurant Blondies Pizza. Blondies started a franchise in Oakville in November 2010. It is situated on Cornwall Road near Longo's plaza.

The pizza joint is sort of named after chef Matt Blondin, however, the red and blonde categories for their from-scratch-made pizzas are used rather than the red and white ones. Blondies' hand-stretched dough is made using local, high-protein Arva all-purpose flour. This aids in moisture retention to produce the desired chewy, pliable crust.

While white sauced pies use an alfredo-style sauce combined with ricotta, red sauced pies are made with Bianca di Napoli tomatoes from California.

One of the top restaurants in Oakville with the Ezzo pepperoni, oregano, jalapenos, and sweet honey drizzle, Blonies is renowned for good service and one of the best pepperoni pizzas in Toronto (and lucky us, now Oakville).

12. Soontorn Bahn Thai food
Soontorn Bahn Thai, a restaurant in Oakville's Towne Square, is regarded as one of the greatest places to get an authentic flavor of Thailand. The entrance to Soontorn Bahn Thai has a large wooden door and velvet drapes. Once inside, the stylish dining area has a sensual, futuristic vibe with hot pink lighting, softly illuminated booth seating in a circle, and classic Thai triangle pillows.

There are many modern Thai meals on the tasting menu, which were influenced by Royal Thai cuisine. Similar Royal Thai dishes are prepared by the chef and may be found at Mengrai Thai and Kiin, two well-known Thai eateries in Toronto.
The cuisine of Soontorn Bahn Thai includes Thai salads, savory soups, curries, fresh seafood, stir-fried dishes, smokey barbeque, noodles, rice bowls, and desserts with coconut and mango. The veggie dish selections at Oakville eateries, including Eggplant Delight and Thai Snow Peas, Carrots, and Baby Corn, make it one of the top restaurants in Oakville for vegetarians and vegans.

13. La Dolce Vita
In search of Oakville's top gelato and ice cream shop? La Dolce Vita frequently has a long queue that extends along Lakeshore Road, so be prepared to patiently wait. It's well worth the wait, local dessert lovers will tell you. La Dolce Vita offers a distinctive Italian dining experience and is just a few steps from the picturesque Oakville Harbour. Enjoy a huge selection of locally created handmade gelato, Italian sweets, and premium espresso.

Traditional gelato flavors including lemon, chocolate, pistachio, and hazelnut are produced by La Dolce Vita Oakville. They also create non-conventional flavors like Twizzlers, Smores, and chocolate pretzels. It is one of the top restaurants in Oakville.

On a beautiful day, you can enjoy your cone or cup outside on the patio. Otherwise, you can enjoy it inside at one of the tables. A gorgeous ice cream promenade to the new Tannery Park at Oakville Harbour is only a 5-minute walk away. La Dolce Vita is a seasonal restaurant in Oakville that is open from the end of the spring until the beginning of the fall.

14. Cucci
A classy Italian eatery called Cucci is located in Oakville's Bronte district. It is managed by Catch Hospitality Inc., the same company that owns Plank Restobar, The Firehall, Tavolo, Bronte Boathouse, Por Vida Mezcal & Mexican, and Duckies Ice Cream Bar, and is one of the top restaurants in Oakville if you're craving good Mexican food.

In December 2007, the Oakville location of Cucci opened. "We wanted to upgrade the dining options offered west of downtown Oakville," said Doug Greco, president of Catch Hospitality. My father, an Italian of the second generation, served as the source of the name. French was the first language spoken in the home when they were growing up in Sudbury since my father was raised by a strong French mother. Strangely, he thought the Italian phrase Cucci Coo had a meaning.

The dining room at Cucci Oakville has 90 seats, and there is also a 30-seat patio outside. Two stylish private dining rooms may accommodate 30 people apiece or up to 70 people altogether and it is one of the top restaurants in Oakville.

Chef Callen Clancy of Cucci previously held positions with Toronto's Oliver & Bonacini eateries and Four Seasons Hotels. Fresh Canadian ingredients are the star of Chef Clancy's tasting menu, which also features traditional Italian sensibility.
15. Bogo Antico Cucina Bar
The Borgo Antico Cucina Bar is situated on Lakeshore Road in the center of Oakville. Enzo and Aldo Campisi, the business's owners, are from a small village in southern Italy. Before relocating to Toronto, the Campisi brothers worked for Italian concepts Oro, Aria, and Church Apperitivo in Germany.

The dining room at Borgo Antico mixes modern minimalism with a chalkboard-covered rear wall. On the white walls are grouped framed pictures that were sent from relatives in Italy. Traditional Italian home cooking with a twist at Borgo Antico is made simple by the restaurant's minimalist décor.

The antipasto, pasta, sides, and dessert sections of the Borogo Antico menu are divided into. Traditional handmade pasta dishes, seasonal fare produced with locally sourced meat, seafood, and produce, as well as a long selection of fine wines, craft beers, and specialty cocktails, are all prepared by the restaurant's chef making it one of the top restaurants in Oakville,


16. Chop Steakhouse
In 2012, the first Chop Steakhouse in Ontario opened close to Pearson International Airport in Toronto. With locations in British Columbia, Alberta, and Manitoba, the steak and seafood restaurant concept is an import from Alberta. There are Chop Steakhouse outlets all around Ontario, including Oakville, Ottawa, and London.

The décor of The Chop Steakhouse, which is located near the boundary of Oakville and Burlington, exudes a strong British flavor. In the main dining room, a big stallion image hangs, and the lamp shade is whimsically designed with what appear to be floating top hats. Prime rib, top sirloin, fillet mignon, new york striploin, and bone-in ribeye are among the steak cuts that are offered.

Chop Steakhouse Oakville's popular steak side dishes include baked potatoes, garlic toast, truffle scalloped potatoes, sweet potato fries, sautéed mushrooms, roasted pesto tomatoes, and parmesan chive mashed tomatoes.
Conclusion
This is in no way an exhaustive list but just a taste of what Oakville has to offer for every one of its eager tourists! To balance your spicy middle eastern cuisine with a sweet coffee, we hope you enjoyed this list. Oakville is a beautiful town that does not fall short of providing people with the best food they have ever had.