Vancouver is known for its brunch places. Locals love to indulge in great food, whether on a weekday or a weekend, in the best brunch places in Vancouver. One can enjoy these brunch restaurants when visiting Vancouver, as the locals would recommend.
There are many places to have a hearty brunch in Vancouver. Some restaurants specialize in breakfast and brunch options only, not catering to dinner options. Sometimes it might be not very clear to choose from so many brunch place options, so here is the list of best brunch places in Vancouver.
The most famous brunch spots include Cafe Medina, OEB Breakfast Co, Chambar Restaurant, Botanist, and many more.
1. Cafe Medina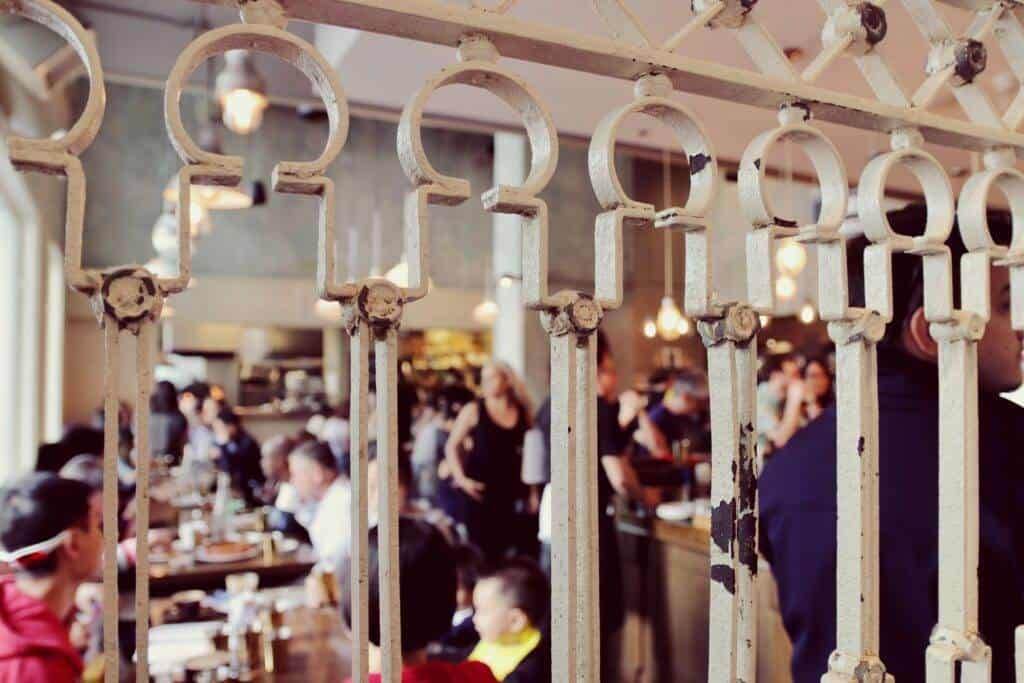 When in Vancouver, or you want to go out with friends for brunch, Cafe Medina is the first place that comes to mind. The bistro-styled restaurant is known for its Mediterranean-inspired cuisine and is popular among brunch lovers making it one of the best brunch places in Vancouver. It has been ranked the best brunch places in Vancouver.
They serve breakfast, lunch, and daily brunch alternatives throughout the week. Harissa Spiced Beef wrapped in a Grilled Pita, Harissa Burger having eggs, and Merguez Sausage with pickles are the must-try things here. The Belgian waffles shouldn't be missed when in Cafe medina.
Another must-try is Les Boulette having 2 poached eggs with spicy Moroccan lamb meatballs, and Wolves Breakfast, having a poached egg, flatiron steak, Medina bacon, and more.
Don't forget to try their signature Liège Style Waffle which has a variety of toppings to choose from, such as dark chocolate, milk chocolate lavender, white chocolate pistachio rosewater, salted caramel, and more.
If you want to go for a cocktail, try Medina 75 but if you love lattes, go for the creamy Lavender Latte. Best for weekend brunch, but reservations in advance need to be made as the place gets filled up fast.
Location: 780 Richards Street Vancouver, BC V6B 3A4
2. OEB Breakfast Co.
Established in 2019, the place became an instant hit among the people of Vancouver. It gets filled up fast during weekends; hence prior booking is necessary. Located by water in Yaletown, the place is a must-visit and falls on the list of best brunch places in Vancouver. The large outdoor patio is the main highlight to enjoy the best brunch in Vancouver.
Popular dishes include Pierogies & Duck, Hog & Scallop Poutines, The Canadian Lobster, and Shrimp Crepe.
The menu also features Canadian Eh! Benny comprises Canadian back bacon, dark maple syrup, or brown butter hollandaise, and the French Toast Trifle has Meyer lemon curd, market berries, Sicilian pistachio, and torched French meringue.
One must also try OEB Breakfast poutines like the Soul in a Bowl featuring duck-fat fried herb potatoes, slow-cooked bacon lardons, and Saint Cyrille curds.
Location: 1137 Marinaside Crescent Vancouver, BC V6Z 2Y3
3. Chambar Restaurant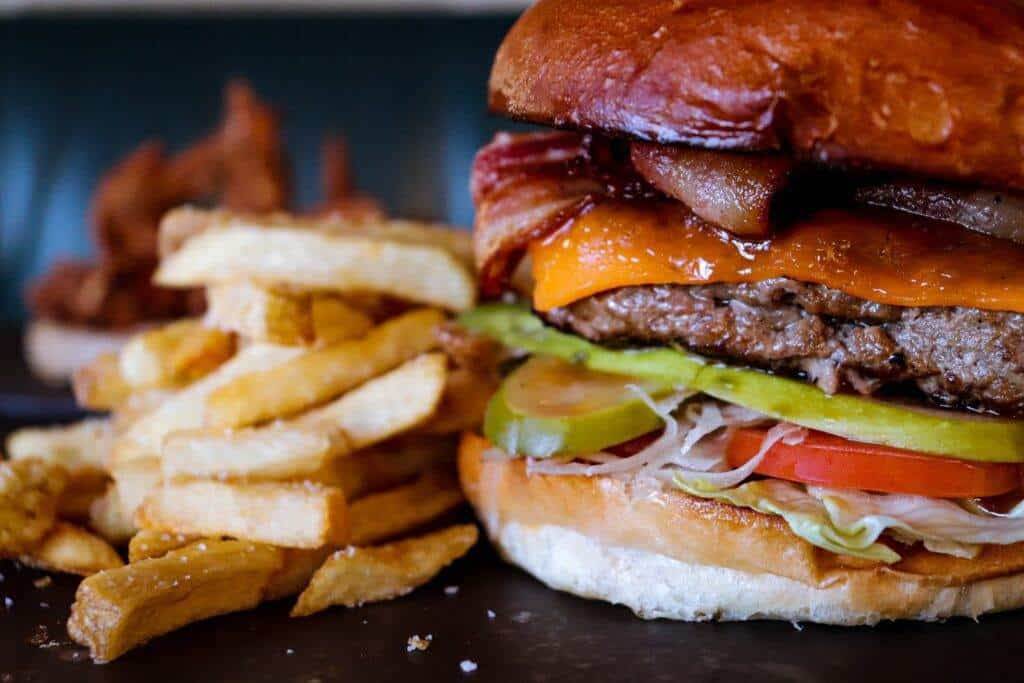 If you would love to try Belgian cuisine with a touch of North African flavours, then Chambar Restaurant is the place for you. The restaurant is stylized with serene and muted colours, a gourmet menu, rustic decor, and well-presented plates, making it a must on their list of best brunch places in Vancouver.
Menus are changed every season to incorporate in-season ingredients into the dishes making them fresh and delectable.
A good brunch would be the La Saucisse comprising two fried eggs, manchego sausage, chicken bacon, cornbread, charred tomato, and chilli creme fraiche. For burger lovers, Burger du Chasseur et Frites is a must try. For your sweet tooth, indulge in their waffles with various toppings to choose from.
Location: 568 Beatty Street Vancouver, BC V6B 2L3
4. Botanist
Another place to eat brunch in Vancouver is Botanist. Visit this place on Sunday morning to enjoy brunch here. The menu lists items made of best-sourced seafood and organic produce to the list of best brunch places in Vancouver. The place features a bar, lounge, dining room, and an outdoor terrace garden. It provides you with a pre-fixed brunch menu and an a la carte option.
Located in Fairmont Pacific Rim, the place is famous for dishes such as Hand-Cut Beef Tartare, having smoked egg yolk, caper berries, parmesan, and sourdough. Another option might be Steak and Eggs with potato, tomato, and salsa verde. Brioche French toast is also worth a try.
Even the Botanist Benedict with Crab and Avocado and Wild Mushroom Risotto with a poached egg is also a must-try with unique cocktails. Cocktail recommendations include Season's Renewal Cocktail featuring rye whiskey, cranberry juice, and sage. Reverie Spritz is another option with grapefruit, rosewater, honey, sparkling wine, and bright and bitter Aperol.
Finally, for dessert go for Okanagan Strawberry Rhubarb, tart and fruity sorbet atop a golden almond financier with strawberry cream and almond strawberry rochers. In all, visit the Botanist for a relaxing brunch on a Sunday and satisfy your taste buds. Try one of the best brunch places in Vancouver now!
Location: 1038 Canada Place Vancouver, BC V6C 0B9
5. Yolk's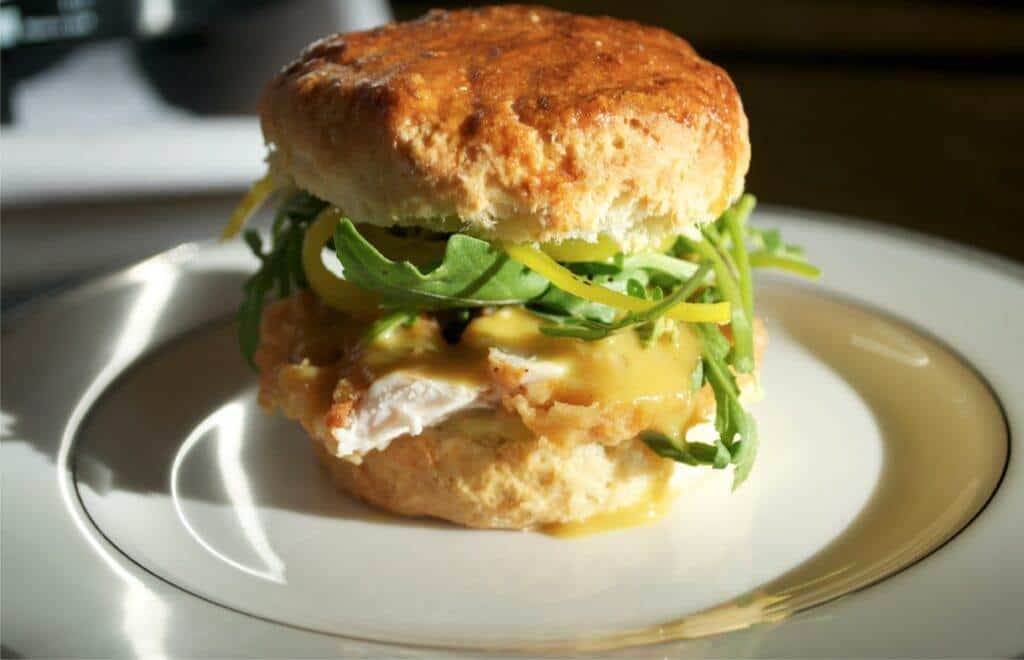 The place is known as one of the best brunch places in Vancouver. Try the lemon truffle hash browns, fries, and poached eggs benedict served on double-toasted English muffins. You can pair it with pork belly, maple-smoked ham, double-smoked bacon, or grilled Portobello mushrooms.
Maple-Smoked Ham with fresh spinach, Yolks-made Dijon, and the Buttermilk Fried Chicken served on half Belgian waffles are also a must-try from their brunch menu.
Known for its speciality in eggs, the menu is filled with rich, savoury dishes. Visiting egg lovers worth it. One can go for classic Yolk's Breakfast, with a choice of sides. More options include Chicken and waffles, beignets, and double blueberry pancakes. One can also find vegetarian and gluten-free options as the place caters to everyone's needs and preferences.
Locations:
-1598 E Hastings Street
-546 W Broadway – Vancouver
6. Breakfast Table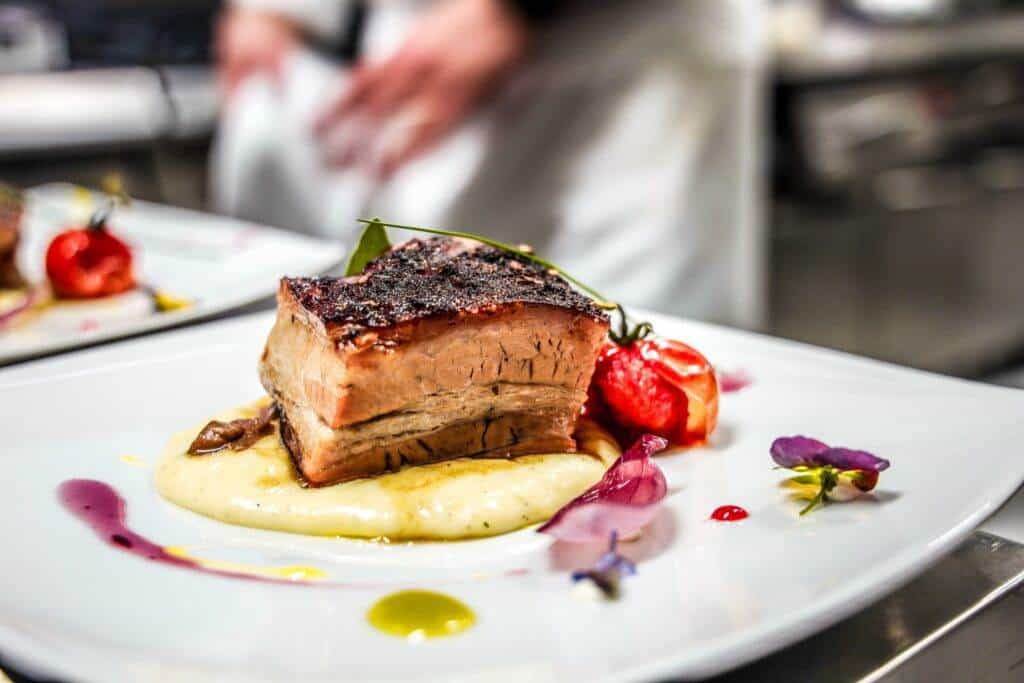 Breakfast table also enters the list of best brunch places in Vancouver. Located in South Granville, the place provides you with Canadian classics with a fusion of Asian staples. Locals enjoy the brunch menu with the must-try Beef Bulgogi or the coffee-crusted pork.
With unique entrees, the brunch place provides you with Vancouver roasted Milano Coffees, homemade lemonades, and cocktails which go very well with breakfast. Those who love to go basic can also enjoy their brunch menu as it features classic eggs, sausage, and toast which are must-haves on a breakfast table.
Chicken kara-age hash, coffee-crusted pork belly benedict, and sake-miso smoked salmon benedict are also a must-try. To add further to the list, dishes such as poached chicken omelette and marble organic matcha French toast can also be tried.
Location: 3014 Granville St, Vancouver, BC
7. Jam Cafe
Jam cafe also enters the list of best brunch places in Vancouver. This family-owned restaurant has recipes handed down over generations, giving this cafe a unique touch. Your next try could be the Charlie bowl with a crumbled buttermilk biscuit, ham, bacon, hash browns, sunny side eggs, fried chicken, and cornbread. Vegan options are also available on the menu, incorporating eaters of all types.
Other recommendations include the Jammer Mimosa, The Fat Elvis Waffle, and The Gravy Coops made of crispy fried chicken topped with two sunny-side-up eggs.
Shredded green onions sandwiched in a dense buttermilk biscuit with mushroom gravy is also a must-try. If you want something simple, try the Chicken French Toast. You will not regret it.
For your sweet tooth, indulge in banana walnut pancakes with sautéed bananas and walnuts in maple butter.
Location: 556 Beatty Street Vancouver, BC V6B 2L3
8. Havana
Next on the list of places for a weekend brunch in Vancouver will be Havana. The place will catch your attention for the beautiful decor, friendly servers, lively environment, excellent food, especially Cuban dishes, and unique cocktails. Come here to enjoy brunch with Latin flavours with a touch of Pacific Northwest style made with local ingredients.
Great brunch options include Little Havana Brunch Bowl, Veggie Brunch Burger, Pulled Pork Benny, Chorizo Hash, and Enchilada Brunch Skillet, making the restaurant enter list of best brunch places in Vancouver.
Even you can try Croque Señora – a Cubano sandwich on a Cuban house bun, fried local free-run egg, charred poblano cream sauce, and crispy potatoes. Another must-try includes the black bean and tomato enchiladas with charred poblano cream sauce and made breakfast-appropriate with poached eggs. If you love to have salad, try Calle Ocho salad.
For cocktails, go for Churro Pick Me Up cocktail made with two shots of espresso, rum, Kahlua, cinnamon syrup, and cinnamon leche whip.
Location: 1212 Commercial Dr, Vancouver, BC
9. Catch 122 Cafe Bistro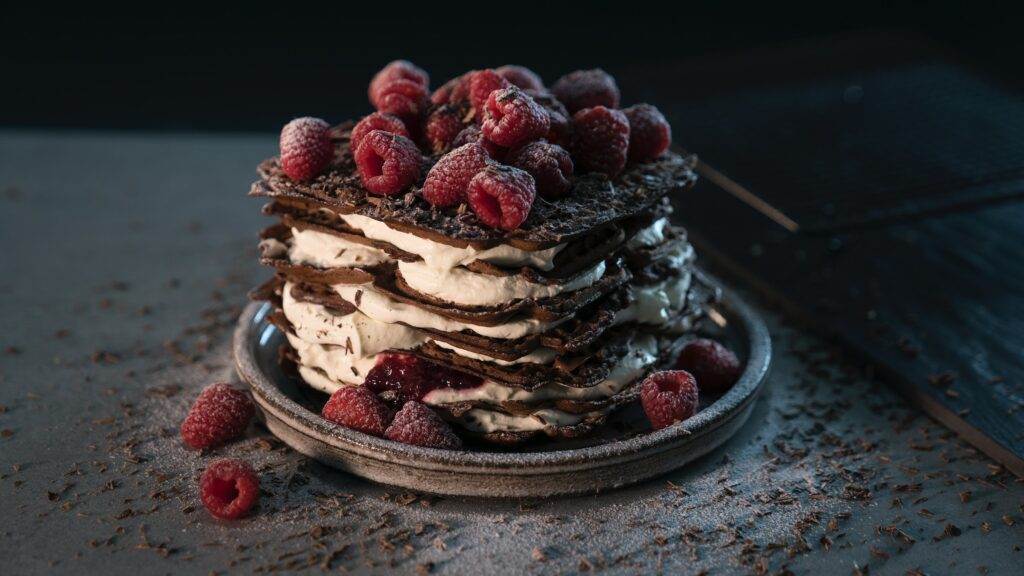 Next on the list of best brunch places in Vancouver is a place known for its best service and well-made menu. Dishes to try to include Roasted Pork Shoulder Benny or their signature and artistic Cauliflower Benny. Catch 122 is the best place for a weekend brunch.
For pastry and waffle lovers, you can try out their variety of pastries or have their delicious Chocolate or Berry Waffles. Also, the 'snickers' berry baby baked pancakes can be tired and in-house filled croissants are worth a shot. Beverages to try to include fabulous Ginger Beer Margherita or a hot cup of French Press. There are also dishes with a fusion of Korean and Chinese styles.
Location: 122 W. Hastings Street, Vancouver, BC
10. The Birds & The Beets
Finding an amazing place to eat? This is one of the best brunch places in Vancouver. Located in Gastown, this famous place serves delicious food for your weekend brunch, which can be enjoyed with family and friends. Both meat and vegan lovers will enjoy brunch here as the menu offers brunch options for everyone making it one of the best places in Vancouver.
Try to include Ricotta Pancakes, Vegan Coconut-Cinnamon Roll, Poached Egg with Avocado Toast, and Breakfast Sandwich. You can also try their sourdough toast covered with slices of avocado and topped with pickled red onions and a wobbly poached egg. Soft scrambled eggs sandwiched in a ciabatta bun are also a must-try.
Location: 55 Powell St, Vancouver, BC V6A 1E9
11. Provence Marinaside
Located in Yaletown, Provence Marinaside also falls on the list of best brunch places in Vancouver. The place offers dishes with a fusion of southern French cuisine to the fresh seafood of Canada's Western Coast, making it the best brunch spot in Vancouver. Enjoy brunch with the view of the Marina and an airy and breezy atmosphere.
One can enjoy the outdoor patio to have an excellent time and have a great experience of the Marina. It has become famous for its seafood crepes- a tasty blend of scallops, shrimp, asparagus, marinated tomatoes, and arugula. This dish makes the visitors come back again and again.
One can enjoy Crab Cake Benedict, a soft, warm English muffin and egg benedict. Crab & Lobster Omelet, Wild Mushroom Ravioli, and Chorizo Scramble also cannot be missed.
Location: 1269 Hamilton Street, Vancouver, BC V6B 6K3
12. Arc Restaurant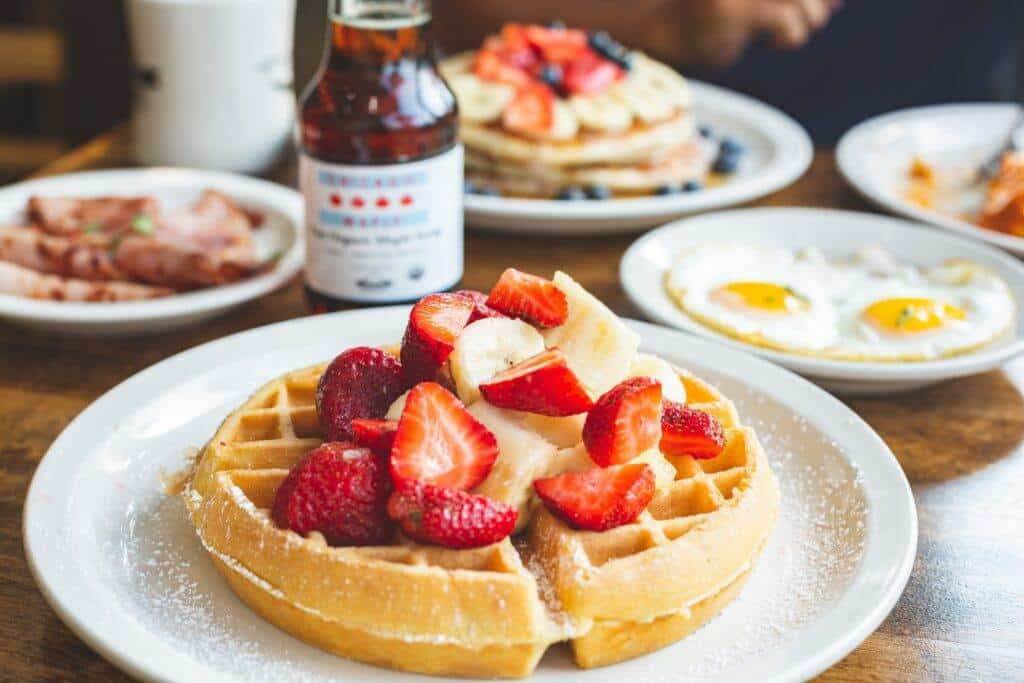 If you want to enjoy unlimited brunch in Vancouver at $49 per person, visit Arc Restaurant located inside Fairmont Waterfront. This restaurant undoubtedly falls on the list of best brunch places in Vancouver.
Brunch options include 15 sweet and savoury items from classics such as traditional Benedict, Liege Waffle, and Avocado Toast to unique brunch items such as Braised Pork Cheese, Ooey Gooey Skillet, and Beef Shortrib Poutine.
Other recommendations include buttermilk biscuits with honey butter and liege waffles. Jerk fried chicken with funnel cake and maple syrup, traditional benedict, Croque madame, and beef short rib poutine is also worth a shot.
The place is very bright and airy, with high ceilings, making the restaurants look unique and different. You can choose from a wide range of seating arrangements such as dining tables for 2, bar seating to booths to enjoy your meal. Remember to reserve a table before going as the restaurant seems to be filled up quickly.
Location:900 Canada Pl, Vancouver, BC
13. Twisted Fork
The twisted fork also enters the list of best brunch places in Vancouver. The place, one of the best restaurants in Vancouver, offers you French delicacies in sweet and savoury options. Known for its casual brunch ambience, it attracts locals again and again. An interesting thing about this place is that it is open till 3.00 PM so you can enjoy their dishes at night too.
Best dishes include sweet banana stuffed brioche French toast, eggs benny, and shakshuka, which will indeed become favourites of egg lovers.
Best known for its service and customized vegan platter, which you can order even though vegans items are not on the menu, making it the main highlight here.
Location: 213 Carrall St, Vancouver, BC
14. The Red Wagon
Next among brunch restaurants in Vancouver comes The Red Wagon. Located in East Van, the must-haves include truckers comprising eggs, buttermilk pancakes, home fries, toast, and bacon or sausage. The next best try would be pulled pork pancakes, following the breakfast sandwich (egg, back bacon, aged cheddar, mayo, and an English muffin), and finally, the eggs benedict, which is available in different varieties and omelettes. One must visit to try the dishes as this place falls on the list of best brunch places in Vancouver.
Location: 2128 E Hastings St, Vancouver, BC V5L 1V2
15. Fable Diner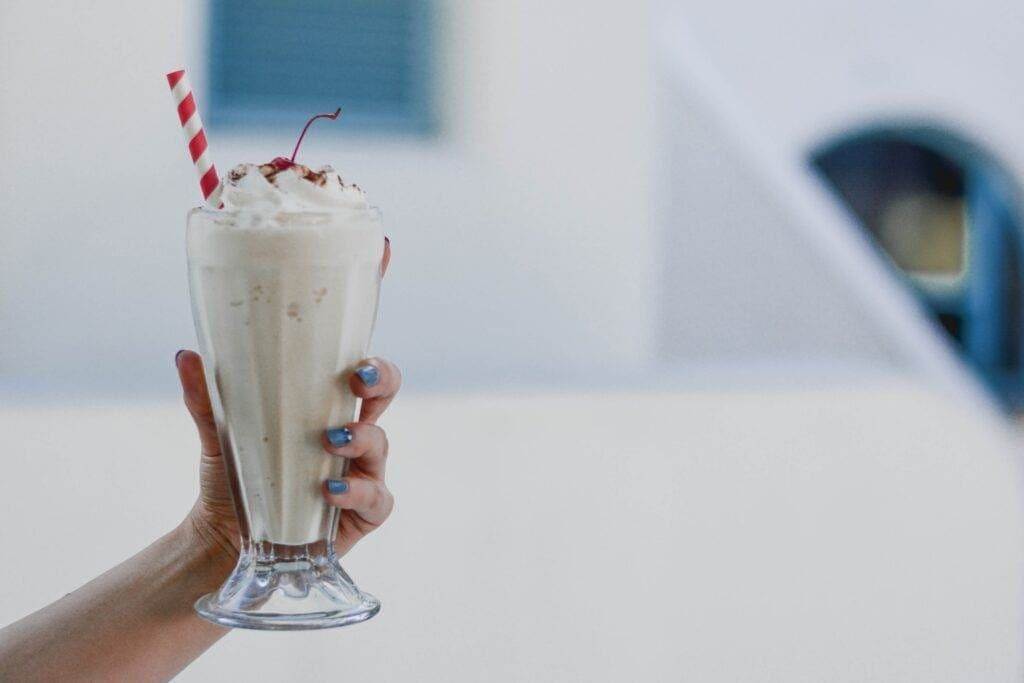 Fable diner also enters the list of best brunch places in Vancouver. It is located in Lee Building in Mount Pleasant with a beautiful white interior. The place serves pre fixed brunch menu at 25$ per person, including a freshly baked item, the main course, a sweet treat, coffee or tea, and a choice of beverage.
You can enjoy dishes such as loaded French toast, brunch burger, a featured benny, hash and eggs, truckers plate, steak and eggs, or grilled cheese.
A must-try is the Roast Duck Pancake featuring shredded roast duck, kimchi, green onion, and cilantro, and it trades maple syrup for duck mayo.
The best beverages to try are milkshakes topped with whipped cream, think mimosa, and signature mocktails.
Seatings are for one hour, and do reserve before visiting.
Location: 151 Broadway East (inside the Lee Building).
16. Sophie's Cosmic Cafe
Coming to the next brunch place, Sophie's cosmic cafe is best known for its eggs in any style, especially omelettes. It also serves gluten-free breakfast along with Sophie's special hot sauce. Covered and heated patios are a highlight as one can enjoy hot brunch hassle-free on a rainy day. Hence making it to the list of best brunch places in Vancouver.
Location: 2095 W 4th Avenue
Conclusion
These were the best brunch places in Vancouver to enjoy various cuisine on a Sunday. Visit these places with your family and friends and indulge in the brunches and some of the best brunch places in Vancouver. Some more recommendations are Brunch Vancouver, Ask For Luigi, Noah's Cafe, and Palette Kitchen.
You can enjoy a weekday or a weekend brunch in Vancouver as per your cravings. For weekday brunch options, places like Twisted Fork Bistro, Chambar, Catch 122 Cafe Bistro, Cafe Medina, The Red Wagon, The Birds & The Beets, OEB, and Jam Cafe can be given a shot indeed.
Want to know about the best restaurants in Vancouver? Check out 28 Best Restaurants In Vancouver.
In Vancouver? Know about 19 amazing things to do in Vancouver.